In just a few hours from London, Nokia will be taking the wraps off their Windows Phone strategy and what Steve Ballmer referred to as a "bunch of phones".
You'll be able to watch the Nokia World keynote live, and we'll be monitoring the news from London all day (and well into the night here in Seattle), as what may be the beginning of a turnaround in fortunes for both Nokia and Windows Phone transpires (or, for that matter, the beginning of a train wreck if these phones don't make some headway in the marketplace).
In advance of that, and perhaps not unexpected due to the number of tech reporters crawling around London this week, we're getting word of what appears to be the initial lineup of Nokia with Windows Phone devices.
First up, Tom Warren from WinRumors has uncovered some exclusive photos of what appear to be marketing materials for two devices, the 710 and 800:

And then, to complete the story, the Nokia Blog, an independent Nokia enthusiast blog run by Mark Guim out of New York, has a couple of screenshots of a "Nokia 900":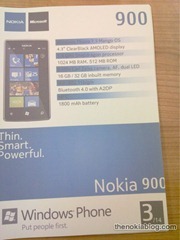 No official confirmation of either set of leaked images at this point, so no guarantees that any of this info is correct, although Tom at least says his images are "100% real".
We're very close to getting official confirmation, and of course we're almost as interested to hear about Nokia's plans for world distribution and how it will handle Nokia products like maps and music, but at least for the 6 initial countries slated to get the first Nokia phones, the wait may be nearly over!