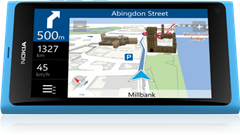 Along with the announcement of the Nokia Lumia 800 and Lumia 710 devices, today at Nokia World the company also unveiled some of the unique innovations they have made on the software side for Windows Phones. Four new Nokia Windows Phone apps – Nokia Drive, Nokia Maps, Nokia Music and Nokia Pulse are unveiled. Check them out below:
Nokia Drive and Nokia Maps
Nokia Drive is a voice-guided turn-by-turn navigation app to be pre-loaded onto all Nokia Windows Phones. The app is already impressive with availability in over 95 countries, ability to change the voice to your preferred one and in your preferred language, 2D and 3D view, as well as day and night modes.
Nokia Maps, similar to Bing Maps, provides directional and local information for when you're not driving. It provides walking directions, local business guides and reviews (similar to Bing Scout), and more. Further, the app also tracks public transportation directly on a mobile device in more than 430 cities worldwide, including up-to-the-minute updates on bus and train routes for 45 cities.
See a demo of both Nokia Drive and Nokia Maps app in action in the demo video below:
[youtube_video]BYMl4wWO5HI[/youtube_video]
Nokia Music
Nokia Music in an app in addition to the Zune music store on Windows Phone that lets users browse and purchase music. It allow users to access the Nokia MP3 Store and purchase and download music directly to their library. It integrates nicely with Windows Phone 7.5, taking advantage of background audio so that music can be played and controlled even outside the app.
While you can create your "own channels" based on the artists you like within the Nokia Music app, the app also features Zune's Smart DJ-like feature called Mix Radio, which automatically create a personalised experience based on the music you already have in your library. What's more, the app even allows you to purchase concert tickets directly within the app.
Unlike Zune however, Nokia Music is already available in 39 countries, meaning the countries the Nokia Lumia 800 and 710 initially will be made available in can already take advantage of this.
Check out the demo video below:
[youtube_video]jcvH3rP4O4c[/youtube_video]
Nokia Pulse
Nokia Pulse is an app that allows location-tagged updates and photos to be sent privately, adding location to conversations with the people that matter most. Here's a description of the app:
Nokia Pulse lets you instantly send location-tagged updates and photos to private groups of family and close friends. So syncing up in town and staying up to date is even simpler than sending a text message, but still just as private.
You can even access these updates and photos directly on the web. Check out a video of Nokia Pulse in action below:
[youtube_video]eGcjArpZs4A[/youtube_video]
Another interesting app Nokia also announced today is Nokia Live View, however Stephen Elop did not specifically mention whether this app will be available for Windows Phone or not (although we believe it will). The app turns the phone's camera view finder into a reality augmenting tool. A phone can be pointed to a building or street and the names of the places become superimposed over them, offering one click access to detailed information about businesses, restaurant or attractions. You can check out a demo video of Nokia Live View on the Symbian-based Nokia N8 below:
[youtube_video]SGlLFTERaPo[/youtube_video]
Nokia is certainly doing a lot of work to differentiate itself from the other Windows Phone OEMs. With their special access to the Windows Phone codebase, we can only see the company contributing to the Windows Phone ecosystem for the better. Let's hope more good quality apps like these come out soon.