So the Nokia World keynote just finished, with Stephen Elop revealing several Nokia-specific apps for Windows Phone – including Nokia Drive, Maps, Music, and Pulse (we're hearing Live View and Tracks are coming too!). It seems like the Nokia Pulse app is now available for download in the Windows Phone marketplace already – for any Windows Phone devices! Check out screenshots below:
If you don't know what Nokia Pulse is, it is a new social networking service from Nokia. Here's how they've explained it:
Nokia Pulse brings your everyday conversations to life by automatically tagging photos and updates with your location. Every conversation, from pickups and drop-offs to meet-ups, is as instant, private, and simple as sending a text, but far more useful and engaging.

Nokia Pulse is integrated with Maps, so finding people nearby, discovering new places, and getting directions is a snap.

Group Conversations:
Keep it Private. Keep it Personal. Keep it Real.

Private check in – All your conversations stay private and safe
Photo check in – Automatically tag your location to all your photo updates
Private by default – No complicated privacy settings needed

Live Places:
One tap and they know where you are. Two taps to get you there.

Bring your favorite places to life – Post a favorite place to a conversation
Discover what's nearby – Make and view recommendations of nearby places of interest
Getting there is a snap – Get directions directly from the recommended place

Your People:
Your Family. Your People. You Decide.

Instant – Receive instant on-device notifications of all new updates
Open – Everyone with an email address can participate
Easy – Sending and receiving messages with Nokia Pulse is as easy as SMS
Powered by the cloud – Your conversations are saved in the cloud for as long as you need them
Accessible from anywhere – Nokia Pulse is available on multiple touch-points (desktop web, mobile web, WP7 and Symbian devices)
And on the last point there – yes that's right Nokia Pulse is available on the web too. You can check it out at http://pulse.nokia.com: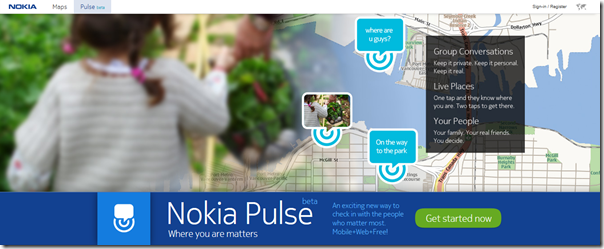 To get the app on your Windows Phone device, go to the Windows Phone Marketplace here: http://www.windowsphone.com/en-US/apps/65ea5cd7-7d22-4aa6-99bc-7a4ff2993663.