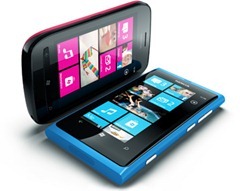 A couple things some sharp eyes have noticed in the Nokia Lumia specs, now that they're out:
Microsoft Lync included
FLAC Audio support
Landscape mode in Picture and People Hubs
WP Sauce noted the Lync and FLAC support.  Currently, Windows Phones do not connect to Lync, the business class Instant Messaging solution that is featured as a part of Microsoft's Office 365, although Microsoft announced last November that it was coming this year.  FLAC, or Free Lossless Audio Codec, is not supported by either Nokia Music, from what we were able to tell, or Zune, and is listed as an Audio Format rather than a Music Format, but it's there.
And then in the images showing the Lumia 800, LiveSide reader Nikhil Jain noticed that the People and Pictures Hubs are shown in landscape mode:
Anyone else notice any interesting tidbits?