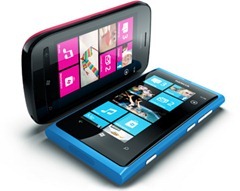 At Nokia World in London today, Nokia announced "The first real Windows Phone", the Nokia Lumia series, including the 710 and 800.  Nokia also announced a new series of non-Windows phones for the developing market, Asha, and news about Nokia Maps, which now is powering Yahoo! Maps (starting with the US and Canada).  Nokia also made announcements about its new marketing campaign, "Amazing Everyday".  The press release is out, here are a few highlights:
Nokia Lumia 800
The stunningly social Nokia Lumia 800 features head-turning design, vivid colors (cyan, magenta and black) and the best social and Internet performance, with one-touch social network access, easy grouping of contacts, integrated communication threads and Internet Explorer 9. It features a 3.7 inch AMOLED ClearBlack curved display blending seamlessly into the reduced body design, and a 1.4 GHz processor with hardware acceleration and a graphics processor. The Nokia Lumia 800 contains an instant-share camera experience based on leading Carl Zeiss optics, HD video playback, 16GB of internal user memory and 25GB of free SkyDrive storage for storing images and music. The estimated retail price for the Nokia Lumia 800 will be approximately 420 EUR, excluding taxes and subsidies.

Nokia Lumia 710
The purposely built, no-nonsense Nokia Lumia 710 can be personalized with exchangeable back covers and thousands of apps to bring the Lumia experience to more people around the world. The Nokia Lumia 710 is designed for instant social & image sharing, and the best browsing experience with IE9. It is available in black and white with black, white, cyan, fuchsia and yellow back covers. With the same 1.4 GHz processor, hardware acceleration and graphics processor as the Nokia Lumia 800, the Nokia Lumia 710 delivers high performance at an affordable price. The estimated retail price for the Nokia Lumia 710 will be approximately 270 EUR, excluding taxes and subsidies.

Nokia Maps: location services designed to make every day better
With an aim to continuously improve its location-based offering, Nokia showcased the latest versions of Nokia Maps and Nokia Drive for Windows Phone. These and other map-related applications introduced at Nokia World aim to make Nokia Maps relevant for commuters and to find interesting places in the city where people live. In addition to its world-class, free walk-and-drive navigation for more than 100 countries worldwide, the Nokia Public Transport application tracks public transportation directly on a mobile device in more than 430 cities worldwide, including up-to-the-minute updates on bus and train routes for 45 cities. Nokia also introduced Nokia Pulse, which allows location-tagged updates and photos to be sent privately, adding location to conversations with the people that matter most. Nokia also showcased Nokia Live View, which turns the phone's camera view finder into a reality augmenting tool. With Nokia Live View, a phone can be pointed to a building or street and the names of the places become superimposed over them, offering one click access to detailed information about businesses, restaurant or attractions. All the applications announced today are available at Nokia's Beta Labs (betalabs.nokia.com).
Onstage, Stepen Elop also announced Nokia Live View, an augmented reality app, and Nokia Drive, which will be available as a free app on Nokia Windows Phones only.
We've already posted some of the new Nokia videos, and a new Nokia Lumia products set of pages are up.