Last Wednesday at Nokia World Stephen Elop, CEO of Nokia, finally unveiled to the world the first fruits from the Nokia-Microsoft partnership – the Nokia Lumia 800 and 710. However, to those who had been paying close attention to Nokia, you'd realise that the phones are based closely on the designs of the MeeGo-based Nokia N9 and Symbian Belle-based Nokia 603 respectively. In terms of differentiation with other Windows Phones? Well besides the superior quality hardware from Nokia, we only saw Nokia bringing a couple of exclusive apps like Nokia Music and Nokia Drive to their Windows Phones, rather than seeing Nokia really customising or adding value to the core Windows Phone OS itself. But according to Nokia, this is set to change in the near future.
Nokia and Windows Phone "Mango"
Before we head on to talk about "Tango" and "Apollo", let's take a look at what happened with Nokia and "Mango". If you consider the time it took Nokia to get from signing the deal in April to actually releasing a product at Nokia World, 6 months is pretty impressive for releasing a quality phone like the Lumia 800. Niklas Savander, Executive VP of Markets for Nokia, had the following to say:
We made the decision to go to Windows Phone when Mango was pretty much done, so we were [only] able to impact some elements of it.
Indeed, according to Mary Jo Foley, Nokia even had to make the decision to take out the front-facing cameras and NFC from the Lumia 800 and 710 in order to push their first Windows Phone out the door before the end of 2011. "There were only so many things the company could manage in a relatively short amount of time," said a Nokia representative.
Nokia and Windows Phone "Tango"

The next step for Nokia is to bring its Windows Phone to additional markets, with additional devices. According to reports, Windows Phone "Tango" is largely focussed on developing countries (such as China and India) which had been traditionally neglected by Microsoft in the past, and the aim of the update is to enable manufacturers like Nokia to sell cheaper devices in these developing countries. This is also confirmed by Niklas Savander, who said that "one of the things we're working on with [Microsoft] is getting the price points of the phones down".
In fact a day after Nokia World, Colin Giles, Executive VP of Sales for Nokia, emailed various media outlets in China reminding them that they have not forgotten about China and that they will bring Windows Phone devices into China in early 2012. Here's an excerpt from the letter (translated):
This year during Nokia World, we announced that the first Nokia with Windows Phones will launch in the European markets, as well as Hong Kong, Taiwan and several other Asian markets. For the mainland Chinese market, Nokia will launch a wide range of Windows Phone devices during the first half of 2012 on the China Mobile, China Telecom, and China Unicom networks. These devices will support China Mobile and China Unicom's TD-SCDMA network, as well as China Telecom's CDMA network.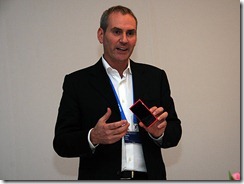 So yes, the next generation Nokia Windows Phones will indeed support the CDMA network (like Verizon and Sprint's), and perhaps we might even see LTE network support as promised by Microsoft. And when Colin Giles meant a "wide range of devices", he really meant it. As Niklas Savander mentioned, "Two phones is absolutely not enough in the market; it's a good start. There are new markets we need to conquer, and [the Nokia Lumia 800 and 710] is just the beginning of our portfolio." In fact, Jo Harlow, Senior VP of Marketing for Nokia, told PC Magazine that "Nokia will be launching new [Windows Phone] devices in a rhythm that might be … something like every three months. We're going to keep coming with new devices in order to have something to talk about." So expect new Nokia Windows Phones (like the Nokia Ace) to be announced sometime in January 2012!
On the software side, Colin Giles in his letter also hinted at possible new features Nokia might bring to Windows Phone "Tango":
Some of the most important focuses for Nokia and other Windows Phone manufacturers is to bring better localized and integrated social services into China, which is also one of the biggest selling point of the Windows Phone mobile platform. When Nokia Windows Phones enter the Chinese market, it will have built-in local social networking services such as Sina's Weibo, Tencent QQ, and Renren, amongst others.
From Microsoft's side, we had seen screenshot leaks of an early "Tango" build back in August, featuring a new universal "Spotlight"-like searching capability which lets users search through everything on their phone – apps, contacts, calendar entries, songs, email and messages, and more – all in one place. Besides this, not much else is known about the update. But don't expect too much for the "Tango" update, given that it is a minor update like "NoDo" and is really aimed at getting Windows Phone into additional markets like China.
Nokia and Windows Phone "Apollo"

Niklas Savander told TechRadar that customers will really see Nokia's impact on the Windows Phone platform in "Apollo" – said to be codename for Windows Phone 8:
You'll really see the fruits of what we can do with Microsoft when the Apollo version of Windows Phone comes out.
Savander also mentioned that while Nokia had a contractual agreement with Microsoft for a certain amount of engineering that can be used for differentiation, they have to be "very careful not to fragment the developer ecosystem." So what exactly will Nokia do with Windows Phone? Michael Halbherr, Executive VP for Location and Commerce for Nokia, gave some hints during an interview with Engadget:
Apollo will be a "very different game" to Mango … Halbherr revealed that he's been pushing Microsoft to integrate NFC and a "positioning framework" to make its mobile OS work better with Nokia's NAVTEQ mapping platform and thereby provide new location-based services.
From Microsoft's side, we've also seen resumes mentioning that "Apollo" will have "Voice-Compose" (Speech-To-Text) and '"Read-Aloud" (Text-To-Speech) features in its email clients. An unwiped whiteboard from Microsoft Research also revealed that "Apollo" might come with an "inspiration engine", one-handed input and next-gen keyboard, as well as a "context engine".
Halbherr mentioned a mid-2012 timeframe for the launch of Windows Phone "Apollo", however Microsoft quickly rejected this claim and mentioned that it is inaccurate. Given there are two "Tango" updates to come before "Apollo", and that Microsoft plans to release "major updates" to Windows Phone on an annual cycle, we believe a Fall 2012 timeframe is probably more realistic.
We simply can't wait to see what's is store for the next versions of Windows Phone, as well as what else is coming from Nokia and other Windows Phone manufacturers. Let's hope Microsoft and Nokia bring some good momentum to the platform while "the stars are still aligned" for them.