While browsing Hotmail Calendar today, something caught our sharp eyes as we noticed some very subtle changes to the Windows Live header. But having seen this before in internal Windows Live testing sites, we immediately realised that the service had recently underwent an upgrade to Wave 5 M2 version (Build 16.2.2907.1020), up from the previous Wave 5 M0 version (Build 16.0.XXXX) we noticed back in June. To see the difference, here's a comparison of the Wave 5 M0 and M2 headers: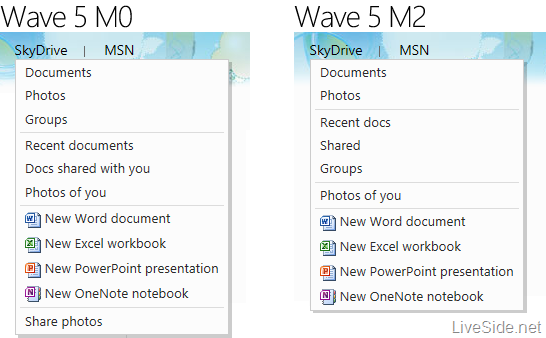 But the important thing here is not about the header change, but more about what this signifies. Based on our experience with previous Windows Live updates, we noticed that before any major upgrade begins across the Windows Live web properties, it usually starts with Hotmail Calendar. Back in June, we first noticed the new Wave 5 M0 header change in Hotmail Calendar on June 7, and only a week later major updates to both Hotmail and SkyDrive began rolling out on June 16 and June 20 respectively. The same held true back in September last year for the Wave 4 web services refresh. This time, we believe it is no coincidence that we're seeing the new Wave 5 M2 header change to Hotmail Calendar first as a precursor to roll outs of the new Hotmail and SkyDrive too. In fact, we have heard reports from LiveSide readers that the new Hotmail has already started rolling out to selected few accounts, with a bigger rollout scheduled in the "coming weeks".
To give you a recap of what's coming next in the Windows Live world, the Wave 5 M2 update is expected to bring us the following new features and improvements:
Hotmail – custom categories, one-click unsubscribe, schedule sweep, instant actions, flagged email improvements, nested folders with drag and drop, mini-calendar on left pane, and new right-click menu for folders
SkyDrive – multiple files selection, new right-click options, simplified file share, ability to access the entire hard-drive of Windows Live-connected devices, storage manager, and many new features and improvements
Please note that the list of new features above is not exhaustive, as there are certainly new upcoming features that we do not yet know about. But at the same time we cannot guarantee that they will all come as part of the upcoming update, or if they're coming this year at all. Either way, it is good to see that Microsoft is finally moving away from the large "wave" updates that happens every one-and-a-half years and moving towards a tighter update schedule that brings "a little bit of innovation" every few months. Make sure you stay tuned at LiveSide as we bring you the latest news on Windows Live!