Bing just announced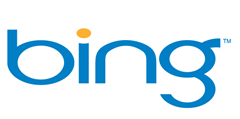 what its calling the "next step in the evolution of Bing for Mobile", combining HTML5 and the mobile web browsing experience and the unique capabilities of app experiences that are now "hiding" within each mobile platform.
The apps announced today, for iPhone and "select" Android devices in the United States, will be joined soon by apps being developed for RIM (Blackberry) and Windows Phone.  According to the Bing Search blog post:
Using HTML5, our goal is to build a mobile experience that leverages the unique capabilities of the different platforms including camera support and voice search, while making the functions the apps can provide consistent across the platforms and – in the future – callable by engines to help people get from searching to doing.
A number of new features are included in the update:
Maps/List Split View: Provides a dynamic way to synchronize a list such as business listings and directions and a map in a single view making it easy to see the location of what you're searching for. Also works for driving directions and transit.
Deals: One-stop deal shopping and convenient mobile phone access for local deals from more than 100 deal providers across the US.
Video Domain: launched last month on m.bing, the new video domain is now available on iPhone.
Transit/Real-Time: the Android app now features transit routing/real-time transit and news– all features that were previously only available on m.bing.com.