Microsoft is putting on quite a show today in New York City, complete with a giant Windows Phone with *really* live tiles featuring a live stage in the phone, a marriage proposal (?!), and a chance for New Yorkers in Herald Square to get acquainted with Windows Phone.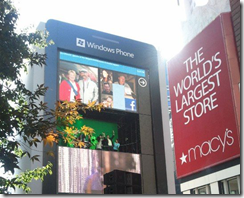 In addition, a "backstage" party for press and analysts was held this morning, where Windows Phone President apparently announced a new Windows Phone Spotify app.  Tom Warren from Winrumors.com is there, but there aren't announcements from either the Microsoft or Spotify press sites as of yet, or an appearance in the Windows Phone Marketplace of any Spotify app.  Winrumors reports, however, that the app will be free to download, but require a Premium membership (at $9.99 US/mo).
(update)  The UK Windows Phone blog has posted on the Spotify app: they say it will be available "later today".  We'll keep you posted.
In many ways, we think this new marketing push as the lifting of an unspoken but understood "beta" tag from Windows Phone.  Everything leading up to today, from the first release of Windows Phones, to the update process, to problems with retail stores not pushing (or actually pushing people away from) Windows Phones, to a "buzz" around Windows Phone and the release of Mango and the announcements surrounding the first Nokia Windows Phones, have served to get the Windows Phone name out there.
If you think of it as a "beta" type exercise, Windows Phone is actually positioned quite well.  Reviews of both the phones and the software are generally quite positive, Microsoft has received kudos for creating a unique approach and smartphone experience, and a number of bugs have been worked out, both physically in the software, and also in the retail and update channels that Microsoft will require to be able to compete.
Now it's time to get to selling Windows Phones.  The latest comScore numbers have actually showed a decrease in market share for Windows Phones in the last quarter, while selling a paltry 75,000 new phones.  We're happy to see a big marketing splash in New York for Windows Phone, but it's going to take a lot more than giant phones to turn the market share numbers around.  This next six months, with a holiday season with stores stocked with new phones, a big Nokia push into the US (and around the world) early next year, and leading into a mid-year "back to school" push, should be a real test of whether or not Windows Phone has a viable future.