Today, Microsoft released a number of "important" updates for Microsoft Office 2010, and the updates for OneNote 2010 include a number of new Windows Live and SkyDrive related features designed to make it easier to use OneNote 2010 on your desktop.  A post today on the Inside Windows Live blog points to a OneNote Blog post detailing the changes.
First up is a new "Open from the Web" option, which allows you to open OneNote documents stored in SkyDrive from OneNote 2010, without having to navigate to SkyDrive itself: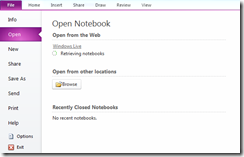 The update also improves the "View Sync Status" dialog, making tracking down sync errors across shared notebooks a bit easier, with a unified appearance for error messages (the "Errors" tab in the dialog is now gone, and the errors appear in the main page, along with links to more info).
The update also includes some additional fixes:
Added the ability to sync two Windows Live IDs at the same time without seeing password prompts, as long as you have the Windows Live Sign-in Assistant installed (part of Windows Live Essentials).
Improved the handling of SharePoint features like required check-in/check-out and other document library settings which might cause OneNote to fail to sync in the past.
Added fixes that now prevent ink from shifting when you use the handwriting features in OneNote 2010.
You can get the update (along with some other general fixes, and stability and performance improvements for Outlook 2010 and Office 2010), by going to Windows Update on your computer, and selecting the new important updates.  And remember that you can use OneNote on SkyDrive on your desktop, from the web, from your Windows Phone, and even from your iPhone!