First revealed during E3 in June 2011, Microsoft had been preparing the new Xbox 360 dashboard update for a while now. And just a few days ago, the company also announced that they will be launching a makeover of Xbox.com's Social and Video portals, adding features like Beacons and Zune video marketplace to bring it consistent with the new dashboard update. Today, Microsoft has reportedly released the beta version of the new Xbox 360 dashboard update to its public testers, and at the same time, the update to Xbox.com is also now rolling out.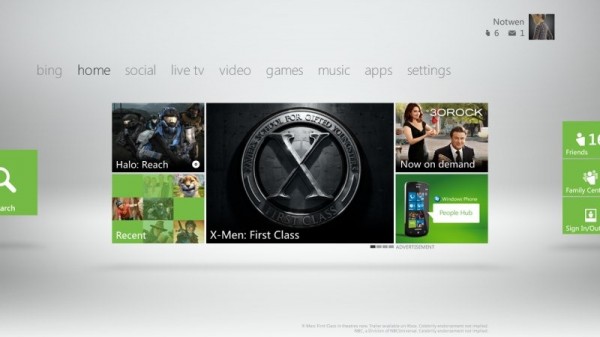 To recap, the new Xbox 360 dashboard update is said to bring the following new features:
New Xbox LIVE Dashboard with integrated voice and gesture controls – We've updated the dashboard, making it easier to navigate through content, whether you use Kinect or a controller. Use voice and gesture controls to float through the menu and select games, movies, music and applications.
Beacons – Beacons allow you to tell your Xbox LIVE and Facebook friends that you want to play a game on Xbox LIVE, making it easier to jump in and play together. By setting a Beacon, you tell Xbox LIVE what you want to play. Then, Xbox LIVE lets you know when friends are playing or want to play the same game.
Facebook Sharing – With Facebook Sharing, now it is easier than ever to brag about all your achievements to your social network. With the integrated "share" feature, you can tout your achievements and showcase your in-game accomplishments through instant, direct posts.
Roaming Profile – With new roaming profiles you can now bring your complete Xbox LIVE profile to any Xbox 360, including game saves, friend lists and your Gold membership, to your friend's house for more fun.
Futhermore, with the announcements of new Xbox Live TV and Entertainment partners around the world, including Bravo, Comcast, and HBO GO in the US and BBC in the UK, the new dashboard is also expected to bring live TV service to users the Xbox 360 console. In addition, Microsoft will also be bringing YouTube onto the TV screen, and adding its Bing search service to the Xbox with Kinect voice control.
There are no words as to when the new dashboard update will be released to all users, however it is widely expected to occur sometime in November.