comScore has released its latest US Search Engine rankings, and while Bing had climbed from 8.4% when the rebranding was launched in June 2009, October marks another month where Microsoft's search offering has failed to gain much share.  Bing's numbers for the month were at 14.8%, up only very slightly from last month's 14.7% share.
Additionally, Microsoft's biggest search "ally", Yahoo!, is continuing a slight downward slope, losing .3 points in the month to go from 15.5% of "Explicit Core Search Share" to 15.2%.  In the same month long period, Google inched up by almost the same amount, rising from 65.3 to 65.6%: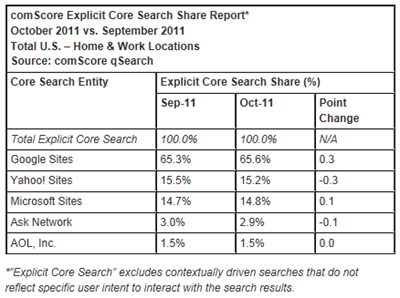 Year over year, Bing has shown some significant steady growth, although it seems to have come at the expense of ally Yahoo! more than competitor Google, although the search leader has lost about a point of share in the past year, according to comScore.  Last year at this time, Bing was at 11.5%, Yahoo at 16.5%, and Google at 66.3%.
While Bing continues to make improvements in the site, including new HTML5 improvements that have seemingly been rolling out forever (we finally have it here, do you?), Bing has not made any "blockbuster" type moves that would help to move it up in ranking.  Added to that is the uncertainty surrounding Yahoo!, which may or may not be for sale, with Microsoft possibly looking to take a stake in Yahoo! in order to help to protect its Bing/Yahoo! Alliance.
Does Microsoft need to do something big with Bing to kick the share up a notch?  Or is slow steady growth ok at this point?  What would you do with Bing?