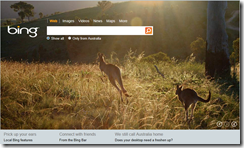 We reported back in May this year that Bing Australia (http://www.bing.com.au) is planned to come out of beta "soon". Well it had been almost 6 months and today Microsoft finally decides to drop the beta tag for its decision engine in Australia. Here's an excerpt from their official press release:
Today, following more than two years of localisation and product development since its Australian launch, the Beta tag has been removed from search engine; Bing.

"In 2009 we launched under Beta, a tag we promised to remove only once the Bing experience could truly satisfy Australia's search expectations," says Parsons. "On 15 November 2011, after more than two years of testing, product feature rollouts, investment and partnership integrations – Bing Australia is now ready to take on the Australian search market."

Engineers have done an in-depth job at localising Bing global experience for Australian users. A local product team has worked with local partners to enrich the search results with relevant information to address Australians' search needs. Bing Australia partners and suppliers include: Australian syndicated content provider HWW, Navteq/Nokia, Sensis and Australian photographers for local Bing homepage images. Thanks to these partnerships, there are now more than 1,000 Australian attractions covered by the Bing 'attraction feature' and more than 1.25 million Australian local business listings in Bing local.

The latest Nielsen NetRatings results show Bing's query share is currently sitting around 7% in Australia. Nearly 3 million Australians use Bing search engine each month (20% of all active online Australians) and local Bing users are increasing (even without any mass marketing support, yet). Traffic increased by more than 65% between June 2009 and Sept 2011.

The global deal between Microsoft and Yahoo! means that Bing now powers the organic search components of Yahoo!7's search in Australia.
To celebrate the launch of Bing in Australia, the Bing homepage in Australia was marked with "a very Australian custom home page featuring kangaroos in the sunset" (see the image above). In addition, the new HTML5-based Bing video homepage background will also be coming to to Australian users starting Wednesday 16 November, according to the press release.
However, while this is all great, Long Zheng from iStartedSomething points out that the feature-set of Bing Australia compared to those in the U.S. is somewhat disappointing, with key differentiating features like Bing Shopping, Bing Travel and Bing Map apps missing. Check out the image Long created below to see the comparison of features between Bing US and Bing Australia: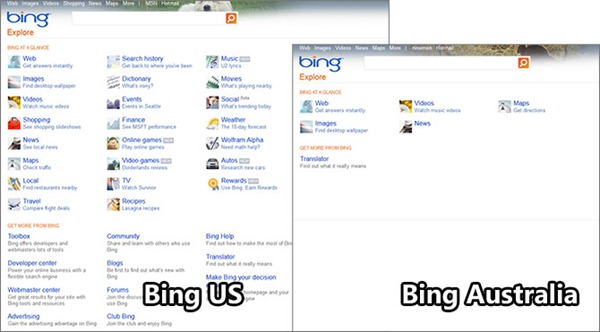 We know this situation is not limited to Australia, but to almost everywhere else in the world except the US. Users on LiveSide and elsewhere have long complained about the lack of features outside of the US, it is no wonder that gaining the growth as much as they've hoped. The Bing team – are you guys listening?
(Special thanks goes to Cleverclogs for the tip!)