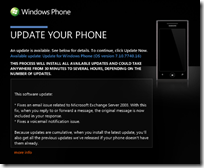 So the Windows Phone "Mango" update (Build 7720) was released not long ago to the public, and today reports are coming in that Microsoft is already rolling out a minor update to its Windows Phone OS, bumping the version number to 7.10.7740. Do not expect any new features however, as the update is intended to resolve two issues that exist in the "Mango" update. Below is a description of the two issues the update addresses:
This software update:

Fixes an email issues related to Microsoft Exchange Server 2003. With this fix, when you reply to or forward a message, the original message is now included in your response.
Fixes a voicemail notification issue.

Because updates are cumulative, when you install the latest update, you'll also get all the previous updates we've released if your phone doesn't have them already.
This is not the first time Microsoft has released a bug fix update to its Windows Phone OS. Back in May this year, Microsoft released the 7392 update soon after the "NoDo" update, which aimed to fix fraudulent third-party digital certificates in its Internet Explorer Mobile browser. The next update for Windows Phone, codenamed "Tango", is expected to come in 2012, bringing support for LTE and additional localisation for emerging markets. It is also rumored that a "Spotlight"-like universal search feature may be coming too.
Have you received the 7740 update yet? Let us know in the comments below!
(Thanks to Neowin.net for the image)