Microsoft has today announced that its 2nd generation Microsoft Surface, SUR40, manufactured by Samsung is now available for people (although only really businesses) to order in select countries around the world. The SUR40 is available for pre-order in 23 countries globally through reseller channels and is expected to cost about $8,400, significantly less than the previous model.
The new Microsoft Surface was unveiled at this year's CES event in Las Vegas by both Microsoft and Samsung. The SUR40 is a much slimmer and lighter device than the original Surface which not only allows it to look more elegant but to also be mounted vertically for interactive wall displays as well as table tops. The SUR40 also brings a brand new feature to the Microsoft Surface called PixelSense that incorporates infra-red camera next to the pixels so that the screen can actually see what is placed above it.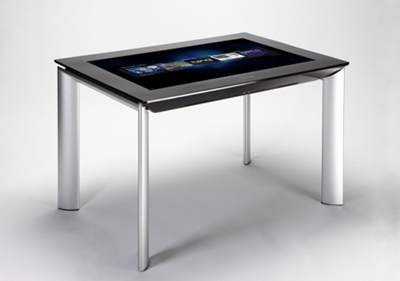 Pixel Sense should make the SUR40 stand out against other generic touch screen devices as the device can not only calculate the direction that a user is accessing the screen from but it can also read text on documents placed on the screen. The screen can recognise up to 50 points of simultaneous touch.
Microsoft expects that uses for the SUR40 will range from healthcare to retail and has already lined up new and existing customers who are eager to implement the SUR40. The companies who are interested include Dassault Aviation, Fujifilm Corp. and Royal Bank of Canada in which the latter is redesigning its stores to offer a new experience to its customers which seems to be based around the SUR40.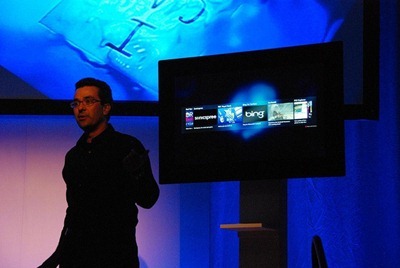 Microsoft has also announced that the Surface 2.0 software development kit (SDK) has been downloaded more than 7,000 times since it was made available at Mix 11 in April this year. The SDK does more than offer developers to build experiences for the Microsoft Surface as in fact any Windows 7 PC with touch can actually make use of the experiences too. There has been speculation that Windows 8 could make further use of the Surface touch experience although there has been no mention of this from Microsoft.
It's been a good week for the Surface team as the product was named a 2011 "Best of What's New" award winner by Popular Science. There were 100 winners of the award but 1000s of entries from across the world of science and technology.