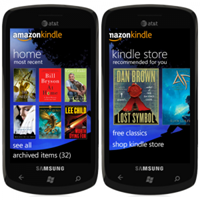 This seems to be a nice surprise, but today an article on Forbes reported that Amazon is currently eyeing the mobile market, with plans to launch a Windows-based smartphone device in Q4 2012. Here's an excerpt from the article:
Taipei-based Kevin Chang, Citi's hardware research analyst, believes Amazon will have a smartphone ready to be launched in the fourth quarter of 2012. Spring-boarding off channel checks, Chang suggests Amazon is jointly developing the phone with Foxconn Technologies, which also manufactures Apple's iPads.

Channel checks suggest the Amazon smartphone will have a 4-inch touch panel display, an 8 mega pixel camera, and adopt a Microsoft operating system. The phone will probably run on a Texas Instruments OMAP4 processor and Qualcomm's dual mode 6-series standalone baseband.
Kevin Chang also suggests that the device will have a production cost of about USD150 to USD170, but carriers will likely to sell the device at cost. It is said that Amazon is aiming to profit by selling its eBooks and music via the smartphone device, rather than from selling the device itself.
However, with Amazon just recently launching the Android-based Kindle Fire tablet, we do question as to whether Amazon would invest in a completely different platform for its smartphones. A recent survey by IDC claimed that both Microsoft's Windows Phone mobile OS and Amazon's Kindle Fire tablet are amongst the top in attracting developers' interest, with developers most interested in Microsoft's strong developer tools and Kindle Fire's low cost and rich content library. If this story holds true, the two companies could possibly leverage the best of both worlds to create an even stronger ecosystem. What do you think about this news? Let us know in the comments below!