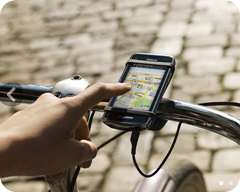 Nokia is set to make a big splash here in the US, with a big presence at CES in Las Vegas in January, and a US launch expected soon after (if not right from CES).  We're expecting at least some new phones, a big marketing push, and a strong push by Nokia to get US mobile operators on board (Nokia has historically been much bigger worldwide than it has in the US).
As we've seen in the worldwide launch of Nokia Windows Phones, the Finnish company has plans to compete not only with shiny new hardware, but with an impressive portfolio of mobile applications.  Nokia Maps, Nokia Drive, and Nokia Music are all integral parts of the Nokia Windows Phone experience, and the Nokia marketing effort as it sets out to define itself as "the first real Windows Phone" maker.
For most of the world, where Bing Maps and Zune are woefully underpowered or even non-existent, a stronger Nokia offering is a great boon, and Nokia Maps, through its acquisition of Navteq (in 2007, for $8.1 billion), offers a complete and compelling map service for mobile devices, including offline map support (now available for Nokia Maps on Windows Phone and reportedly coming soon to Nokia Drive, making it possible to use the mobile navigation service even without an internet connection).
But in the US, it's a slightly different story.  To the consternation of many of our international readers, it's well known that Bing Maps and Zune have focused their efforts mainly in the US, offering features and levels of detail unavailable elsewhere.  So what happens when Nokia launches in the US?  Does Nokia directly compete with Bing Maps?  Does the not-yet launched US Nokia Music site go live in competition with Zune?

Back in May, Search Engine Land speculated that Bing Maps was slated to be not only powered, but replaced by Nokia Maps, basing the assumptions on talks over lunch with "a person with close connections to Nokia".  Author Greg Sterling first points out some vague but quite interesting tidbits from the initial announcement of the Microsoft/Nokia partnership:
Nokia Maps will be a core part of Microsoft's mapping services. For example, Maps would be integrated with Microsoft's Bing search engine and adCenter advertising platform to form a unique local search and advertising experience.
Sterling goes on to report on more of the assumptions by his lunch partner:
However my lunch companion argued unequivocally that Nokia Maps would effectively replace almost everything that Microsoft had developed over the past several years in terms of the Bing Maps infrastructure. This was shocking because Microsoft has invested hundreds of millions of dollars (if not billions) in creating a viable competitor to Google Maps. Most recently the company has been promoting its roll out of new hi-resolution aerial imagery on a global basis.

I said I couldn't believe Microsoft would agree to swap in Navteq for the guts of its own system. Yet my lunch guest argued that Microsoft's role would mostly center on the Bing Maps UI — ironically not unlike Yahoo's relationship to Microsoft search results — everything else would be powered by Nokia.
Since then, we've had a chance to see the international launch of Nokia Windows Phones, and their heavy reliance on Nokia-specific apps like Maps and Music to differentiate their phones.  So what will happen in less than two months when Nokia arrives in the US with Windows Phones?  As Sterling points out, Microsoft has spent millions (if not billions) of dollars on mapping technologies, trying to differentiate their product while licensing (at no small cost, we're sure) Nokia's Navteq mapping technologies.
Zune is in somewhat the same predicament.  If Nokia launches a US Music product (which their website is promising is "coming soon"), it will have to be in direct competition (or some sort of unannounced as yet collaboration) with Zune.  Will Microsoft get out of the expensive maps and music businesses, and let Nokia take over?  Will it go into direct competition with Nokia, the company it is betting on to save its Windows Phone business?  Or will, as we've unfortunately seen before from Microsoft, will there be a muddled and poorly played story that will leave both Microsoft and Nokia in some sort of map and music limbo?  What do you think will happen?