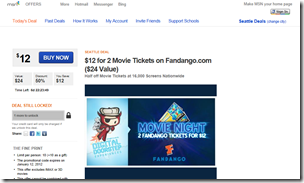 Today we received an email from Microsoft announcing that Bing Daily Deals (http://www.bing.com/daily-deals), powered by Tippr, will soon be rebranded as MSN Offers. As we reported earlier, the service lets you subscribe to daily emails telling you about the best deals in your local area, which you can purchase and then redeem via the website after the deal is over. However, the service was easily confused with another Bing service, called "Bing Deals", which aggregates over 200,000 deals from major providers and retailers, including Groupon, LivingSocial, Nordstrom, Target and many others, all in one place. As such, Microsoft made the decision to change the name of Bing Daily Deals, here's what they said;
We wanted to give you a heads up that Bing Daily Deals will soon be re-named MSN Offers. It's the same great set of values in your local area, but we wanted to clear up confusion between the Daily Deals you receive via email and the Bing Deals feature which aggregates daily deals from hundreds of providers at Bing.com/Deals. Moreover, better aligning Daily Deals with MSN, where you can go to find the best things going on in your local area, seems to make good sense.

You don't need to do or change a thing. You'll still be getting the same great deals, with the same account information.
You can now already visit the new MSN Offers website, available at http://www.msnoffers.com.