What a strange, but very interesting document!  Today on the Inside Windows Live blog, Omar Shahine and Mike Torres give us a "state of cloud storage" post where they admit:
Less than 10% of college students even consider using SkyDrive for cloud storage.
But, about 75% of students collaborating with cloud services are using some combination of Dropbox and Google Docs, with another 15% using email only (and we know what email service *ahem* Gmail *ahem* they're using).
92% of US families are using more than one OS across PCs, mobile, and tablets.  When they count in e-readers, it's near 100%.
Indeed, we happened across a Microsoft Careers post for SkyDrive the other day that fairly crowed:
SkyDrive is going head to head with the likes of Google Docs and Dropbox as well as partnering with some very recognizable global partners. We already are getting 50% of the Google Docs page views and as an organization, we live, eat and breathe competition.
For those of us who have been following Windows Live since the beginning, the thought that Microsoft has allowed, once again, such a head start for Google Docs, while having seemingly all the pieces in place to build a better service, years ago, is exasperating.
But the good news is that Omar and Mike's post can be taken as a broad hint that new services are coming to SkyDrive, and indeed they point out that (as much as it doesn't seem so to us early adopters) we're still very early in the game.  They point out that only 22% of consumer's photos are stored in the cloud, and only 1% of documents: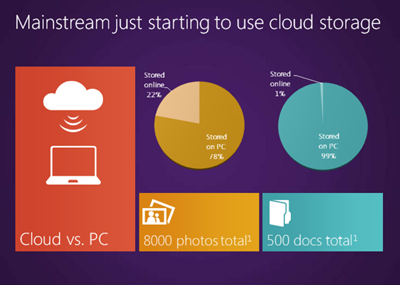 They then go on to lay out what a seamless cloud connection might look like:
Table stakes
Simple & secure
It would sync the files you have to the cloud and other devices. It would be simple enough to use to share files with anyone so you could finally stop emailing attachments. It would also protect your content using industry leading security measures. In short, you could trust it to "just work".
Straightforward and flexible storage limits
It should provide a modest amount of free storage for key scenarios. It should actually make it easy for customers to use this storage – and provide options to purchase more if needed.
Work across any device
It would be built with the understanding that we want to have our content available anywhere, even if we use devices made by different companies with different operating systems. This is how important services like Hotmail and Skype work, and personal cloud storage should be no different.
Winning factors
Cloud-enable the entire PC
While it's critical to support all types of devices, it's particularly important to connect the billions of PCs in the world to the cloud. The PC is the most popular smart device and stores most of the world's personal content. A cloud tailored for this device would provide access to all of your content from anywhere, with no complex setup or configuration.
Work with key apps and services to let you organize, collaborate, and share in new ways
It would work seamlessly and automatically with leading email, productivity, or photo apps to let you organize, collaborate, and share content in entirely new ways. It would also connect with the services you already use for sharing so that you could upload once and share the way you want. It would do all of this while supporting the files you use today and keeping you in control of your content.
Connects people, content, and devices at scale
In addition to having the right features, the scale of a cloud itself can provide value for customers. Sharing and collaborating is more convenient when more people can connect to a given cloud. Also, people benefit from a cloud that connects content to more apps, and app developers prefer to integrate with clouds that have the most content and connect the most devices.
Are we about to begin hearing about a new version of SkyDrive, one that "just works", offers free and paid alternatives, and works across devices and across the "leading email, productivity, or photo apps"?  Let's hope so!