A new post on the Inside Windows Live blog today brings us news of some new features for SkyDrive, including file upload and file management changes, expanded "right-click" functionality, HTML5 support for file uploads (meaning drag and drop file uploading for Firefox and Chrome), and support for viewing PDF and RAW files from within SkyDrive.
If you were expecting a full checklist of new features as outlined in last week's SkyDrive post (and our own analysis of what that post means for the future of SkyDrive), it's hard not to be at least a little disappointed.  No improvements, or even any mention, of Windows Live Mesh / SkyDrive syncing, no news on expanded free or even paid storage, and no ability to upload by folder (although file upload and file sharing has been enhanced).  Hopefully these will be coming soon, and SkyDrive, like Hotmail, appears to be shipping updates every 2 months or so.
But there are some improvements to get excited about.  The file sharing updates now allow you to set sharing on a per-file basis, allow or disallow file editing by the sharing recipient, and/or require a log-in to view the file.  SkyDrive now allows easy file sharing to Facebook, MySpace, and LinkedIn, too: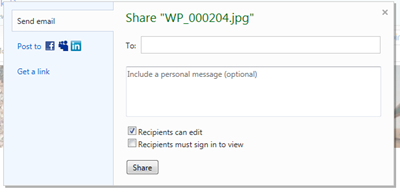 However there doesn't seem to be any kind of sharing management capabilities, so if you want to disable sharing for one person across all your files, you're going to have to do it file by file, if you can even find all the files you previously shared.
Don't get us wrong, these new features are great, and will make sharing single files not only possible but easy, provide easy file upload for browsers other than IE, and open up SkyDrive through new APIs for some hopefully interesting 3rd party scenarios.  Will it be enough to get more than 10% of college students using cloud storage to consider SkyDrive?  Somehow, we don't thing Dropbox is shaking in their boots quite yet, but what do you think?