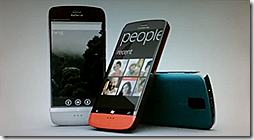 Ever since Nokia first revealed its first two Windows Phone devices – Nokia Lumia 710 and 800 – there had been various rumors about upcoming Nokia Windows Phones. In fact, a few weeks ago images of an alleged Nokia Lumia 601 was leaked to the web, said to come an 8 megapixel camera. Today, BGR reported that another upcoming device – the Nokia Lumia 900 – will be coming as a flagship device in early 2012. Here's the full quote from the article:
We just got the lowdown on one of Nokia's upcoming flagship devices currently set to launch in early 2012 in the United States. According to our source, the new Nokia smartphone will be the Lumia 900, a Windows Phone with the same basic identity as the Lumia 800 but with a bigger display and other enhancements. The handset will reportedly feature a 1.4 GHz processor, a 4.3-inch ClearBlack AMOLED display and an 8-megapixel camera, and it will ship with Windows Phone "Tango".
The article also claims that Nokia will be launching a huge marketing blitz during January and February 2012 to accompany the new flagship device. We've previously reported a rumored device with a codename of Nokia "Ace", which is said to have the exact same specs as the Nokia Lumia 900 as described above. The previous report also claimed that the device will come with 16 GB storage and 1800 mAh battery, and will feature LTE support for the AT&T network.
Indeed, Microsoft's Windows Phone President Andy Lees did promise back in October that LTE Windows Phones will be coming, and Nokia's CEO Stephen Elop also promised that a portfolio of new devices will be coming to the US market in early 2012. So while we're not sure if the Nokia Lumia 900 will be a real device or not, we do expect Microsoft and Nokia to launch a range of new devices in early 2012.