This afternoon (pacific time), Microsoft took some of the wraps off the Windows 8 store, and although journalists and bloggers not at the event scrambled to get the news as it was happening (Thanks, @InaFried at AllThingsD, it may have been painful, but you were all we had!), and much of the news had already been announced at Build, there were a few new tidbits of information.
The first, and probably most newsworthy, is that Microsoft confirmed a "late February 2012" launch date for the beta of Windows 8, confirming speculation by The Next Web and others.  The Windows Store will launch at the same time, presumably with at least some of the apps demoed: eBay, Evernote, a game called "Cut the Rope, and Disney Digital Books, to name a few.
Microsoft's Windows Web Services VP Antoine Leblond made quite a big deal about the scope of Windows, pointing out that there are some 1.25 billion Windows machines out there (more than there are cars!), with another 400 million Windows 7 devices expected to be sold in the next year.  Of course exactly none of those devices will be able to run the Metro style apps natively, but still, it's an impressive number.
Leblond then went on to compare Windows to Android and Apple (both with similar "App stores"):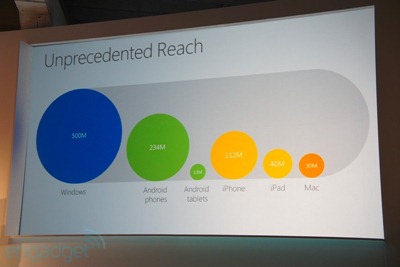 (photo credit: Engadget)
Funny, they didn't include Windows Phone in there (or wait, maybe they did and it's just too small to see!)
After that it was demo time, and after that, a bit of news on what developers can expect.  Here's a list of some tidbits we were able to glean, thanks to All Things D:
Windows Store will be localized in all (more than 100) Windows languages
Payment mechanisms for 230 markets
Top 40 markets will have local pricing
Developers will be able to be paid in one of 20 different currencies
IE 10 (built in to Windows 8) will include a button in the browser for apps that are in the Windows Store
In-app purchases and trial app support built into the store, developers can use if they wish
Apps can use their own subscription back-ends, unlike Apple store
Developers are free to choose whichever ad platform they want for ad supported apps
Developers will be able to check on their apps through the approval process, as was shown at Build
App prices can range from $1.49 to $999.99 (!!)
Microsoft will take a 30% cut for the first $25k, then the cut will drop to 20%
Microsoft has paid a lot of attention to marketing both products and apps in recent times, with emphasis on the Microsoft Stores, the Windows Phone Marketplace, and more, and it's no surprise that the new Windows Store is well thought out and comprehensive.  Of course how well it does will depend entirely on Windows 8 sales, and sales of Metro style apps, but having the store in place is going to be vital if Windows 8 is to succeed.
A bit of an update: Microsoft has (finally) in the last few minutes blogged about the new Windows Store, and posted additional details over at the Microsoft News Center with a Fact Sheet, screenshots and event photos, and a video.