Our friends at WMPowerUser.com noticed a tweet by Omar Shahine, the Group Program Manager from SkyDrive, pointing out that the first third party app to make use of SkyDrive's new APIs is now available:
[blackbirdpie url="http://twitter.com/#!/OmarShahine/status/145346494860492801″]
Handyscan turns out to be a pretty cool little tool, allowing you to turn your Windows Phone into a quick and dirty scanner, by using the phone's camera to scan documents (or whatever you put in front of it, really), and then save the scans locally, or up to "the cloud" via SkyDrive or Dropbox: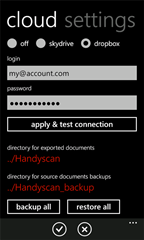 There's a free version of Handyscan available in the Windows Phone Marketplace that has quite a list of features, including the ability to save to the cloud, import and/or export photos, scan in and digitize a signature and then electronically sign a document with that signature, add text to documents (ie: fill out forms from your phone!), and lots more.  A paid version costs $2.99 and adds the ability to save to .PDF, more emailing options, and a backup restore capability.
It's good to see 3rd parties begin to make use of the new SkyDrive APIs, but of course we're just as interested in what Microsoft plans to do with SkyDrive.  We're not the only ones, apparently, as @TedsBlog asked Omar "when we could expect a native SkyDrive app for WP7?".  Shahine replied with a smiling "no comment", which we'll take, as Ted did, as a "stay tuned"!
Update: Thanks to Brandon (@bc3tech on Twitter) for pointing out to us another Windows Phone app apparently using the SkyDrive APIs – WP Social Cam.  Although the November SkyDrive update broke their connection with SkyDrive for a bit, they're back at it, and you can upload video created on your Windows Phone to YouTube, SkyDrive, Facebook, Twitter, and more.  Sounds fun! (Free trial, $1.99 for the full version)