This morning, Microsoft announced new SkyDrive apps for both Windows Phone and iPhone, the only problem being that the Windows Phone version wasn't live yet.
We just got word via tweets from @withinrafael that the app has appeared on the Windows Phone Marketplace, so you can head over and get it now.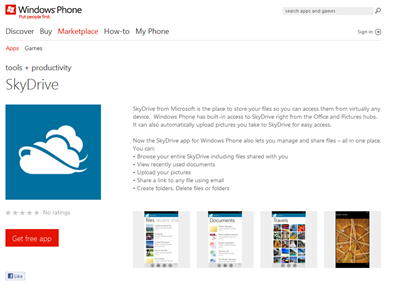 While SkyDrive is already a part of the Windows Phone app hub, the new SkyDrive dedicated app provides new functionality, such as creation/deletion of folders, sending links to files and folders, and more.  From the app's page:
Now the SkyDrive app for Windows Phone also lets you manage and share files – all in one place. You can:
• Browse your entire SkyDrive including files shared with you
• View recently used documents
• Upload your pictures
• Share a link to any file using email
• Create folders. Delete files or folders
Let us know what you think of the new app, whether you're accessing through Windows Phone or iPhone!