Last week's Xbox 360 dashboard update is already getting new content through Xbox Live, as MSN today is announcing that a new MSN Video app is now available.  The app, available for download on Xbox Live today, makes MSN video content available to the Xbox/Bing/Kinect experience:
Now with the simplicity of voice and gesture technology on Kinect for Xbox 360 and the intelligence of Bing search, people can browse and watch some of their favorite MSN Video content, including awarding-winning news from MSNBC, leading sports programming from FOX Sports on MSN, viral videos from StupidVideos, and more.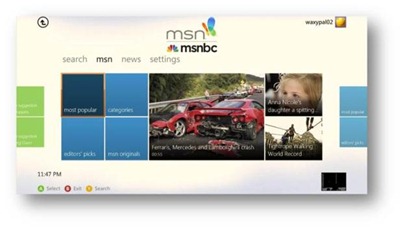 Additional content is set to become available for the MSN Video app in the coming months.  The MSN blog has more details.
YouTube also has an Xbox dashboard app in the works, which was slated for a "late December" release, according to the Microsoft press release announcing the new dashboard.  Well, if you were in the Xbox dashboard beta, you already have access to the new YouTube app.  Here's a video showing off the new app (pardon the NSFW exclamations from "Cookie IMonster" at the beginning, he thinks the app is, well, amazing):
[youtube_video]jP4d5uZ_Vqo[/youtube_video]
Hopefully the new YouTube app will be available more widely soon, it looks great!
UPDATE:
According to MajorNelson.com, a whole slew of new apps are now available, including YouTube and MSN Video.  Here's the list:
blinkbox (UK): blinkbox gives access to a wide range of movies online. With more than 10,000 movies titles movie fans can watch their favorite films immediately with no additional subscription required.        
iHeartRadio (U.S.): Listen to more than 800 of the nation's most popular live broadcast radio stations from 150 U.S. cities with iHeartRadio.
MSN Video (Australia, Canada, Germany, Italy, Mexico and UK): MSN brings you the latest breaking news, sports, celebrity gossip and more from around the globe.        
MSNBC.com (U.S.): MSNBC.com bring you the best of NBC News, MSNBC, Fox Sports, Access Hollywood, original programming and more, on-demand and up-to-date 24/7/365.        
MUZU.TV (Belgium, Denmark, Finland, France, Germany, Ireland, Italy, Netherlands, Norway, Spain, Sweden and UK): MUZU.TV the music video site, offers nearly 80,000 music videos at your command. Brand new releases from the world's biggest artists, great music videos from every decade, up and coming bands and the latest music news and interviews.        
Rogers On Demand (Canada): Rogers On Demand provides select TV shows and movies to everyone for FREE. Rogers customers can also catch up on their favorite premium programming anytime, from anywhere in Canada.        
SBS ON DEMAND (Australia): SBS ON DEMAND is a catch up TV service that lets you watch full episodes, of your favorite SBS television programs.        
TMZ (Canada, U.S.): Your all-access pass to the latest TMZ entertainment stories and breaking news videos everyone is talking about!        
RTVE (Spain): Complete episodes from series, news programs, documentaries and the best Spanish audiovisual content from RTVE.        
Verizon FiOS TV (U.S.): Get Verizon FiOS TV with 26 live channels like MTV, Spike, Food Network, Comedy Central, HBO, CNN and Nickelodeon – with more to come. Plus with Kinect, change channels with your voice.
YouTube (Available in 24 countries globally**): From your favorite web original video to gaming tips, a universe of compelling content is available through YouTube on Xbox LIVE. 
(update via enConnected.com)