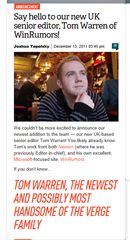 Congratulations are in order today as Tom Warren, long of Neowin.net and founder of Winrumors.com announced on Winrumors that he will be moving to The Verge as UK Senior Editor.  Tom has worked incredibly hard this past year on making Winrumors.com the place to go for Microsoft news, and knowing how hard it is to stay on top of breaking news at all hours from all sources, his efforts have gained him well deserved respect from this corner of the web-o-sphere for sure.
The Verge, started by Joshua Topolsky, Nilay Pitel and others from Engadget.com, has made quite a name of its own in the past year, too.  After the founders left the AOL run Engadget, they ran a placeholder site, ThisIsMyNext, for a time while they readied the Verge, a magazine style tech blog covering just about anything tech related.
We're thrilled for Tom, who told us once that "all (he) ever wanted to do" was to work full time on tech journalism, as he's finally able to quit his day job and fulfill his dream.
Tom hasn't quite decided what to do with Winrumors.com, and will be transitioning out of writing there in the next few weeks, but we'll be following him both at Winrumors and at the Verge, and you should too.
Congrats, Tom! (but ok, we're not so sure about the "handsome" part

)