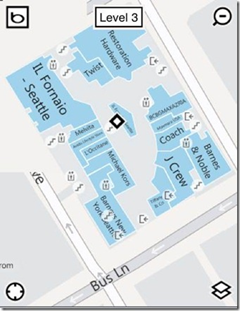 We're just beginning to see a new generation of services appear that will take advantage of the rapid consumer move to smartphone technology, rare only a few years ago, and still in its early stages.  GPS positioning services can provide mapping, driving directions, and other location services, including check-ins, advertising, and deal offers, but there's a big problem with GPS: it doesn't work well indoors.
So if you're in a mall, an airport, a subway system, or the like, location based services just don't work very well, at least they don't now.  According to an article in Forbes, all the big players (Google, Microsoft, Nokia, RIM, and Apple) are working hard to move into what could be the next big thing in mobile location services, indoor mapping and location.
Google has made the first foray into indoor mapping location, releasing an update to its My Location feature last month that allows Android phones to "pinpoint" (within a few meters, anyway) your location.
Microsoft has been working on indoor mapping, but hasn't yet released any features to track your location indoors.  The Forbes article quotes a report by research firm Grizzly Analytics, who believes that may change soon.  Forbes interviewed Grizzly Analytics founder Bruce Krulwich:
Of the five leading companies, Krulwich sees Microsoft and Nokia as the most likely to challenge Google in indoor positioning. He expects Microsoft and Nokia to launch a service sometime in 2012, perhaps tagged to Microsoft's "Tango" Windows Phone update. Both companies have significant experience in indoor positioning. Microsoft has researched how to determine location using special radio beacons as well as by analyzing Wi-Fi signal strength. It has also experimented with what Krulwich calls movement tracking. That involves tracking a device as it moves away from a known location, such as a door to a building (which can be pinpointed via GPS because it is outdoors).

Beyond its research, Microsoft holds granted patents in indoor positioning. Krulwich counted at least five Microsoft patents related to determining phone location using wireless access points, radio beacons, device movements and other radio signals.
Nokia, too, is heavy into both mapping and the race to indoor location services, and released a video showing an "integrated indoor/outdoor navigation system":
[youtube_video]S2GALFBrtXk[/youtube_video]
Nokia also, as Forbes notes in the article, recently showed off a new Bluetooth based 3D indoor mapping system.
With a combined effort, Krulwich believes that Microsoft and Nokia "would have a leg up if they can get a combined system out to market".  When Microsoft and Nokia announced their partnership early this spring, Microsoft pledged to make payments to Nokia to cover mapping and navigation services consisting of "billions of dollars", and there has been speculation as to how Microsoft will move forward with mobile mapping services.  Will Nokia take the lead in providing such services?  What would that mean for Microsoft's other Windows Phone partners?
Mapping and location services are sure to be one of the great differentiators, and one of the great assets of the smartphone market as the industry continues to expand.  Will Microsoft and Nokia be able to move to the forefront, and will that help to establish Windows Phone in a more dominant position?  How important are indoor location services to you?