December, 2011
Last week's Xbox 360 dashboard update is already getting new content through Xbox Live, as MSN today is announcing that a new MSN Video app is now available.  The app, available for download on Xbox Live today, makes MSN video content available to the Xbox/Bing/Kinect experience:
Now
…

Microsoft announced new SkyDrive apps for both Windows Phone and iPhone this morning in a blog post on Inside Windows Live.  We pointed out a hint of just such an app on the way last week via a comment by Omar Shahine, and now here it is!
The …
Ina Fried at All Things D is reporting that Windows Phone President Andy Lees is moving to a new position in the company, to work directly for Steve Ballmer on new opportunities for Windows Phone and Windows 8, according to a memo seen by the Wall Street Journal's …
Today OneNote for iPhone app gets an update, as usual, with some performance and reliability improvements. But interestingly, the update hints that an OneNote for iPad app is finally coming to iTunes App Store.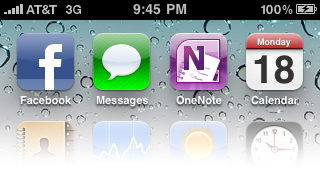 Though OneNote for iPad is not available yet, the 1.3 iPhone version update…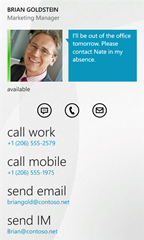 If you're in an enterprise that uses the Lync  integrated audio, video, and web conferencing system , or if you use Office 365, you can now download and install the Lync mobile client for Windows Phone.  Lync has been known to be coming for some time, and was …
Our friends at WMPowerUser.com noticed a tweet by Omar Shahine, the Group Program Manager from SkyDrive, pointing out that the first third party app to make use of SkyDrive's new APIs is now available:
[blackbirdpie url="http://twitter.com/#!/OmarShahine/status/145346494860492801″]
Handyscan turns out to be a pretty cool little tool, allowing …
What if you rebranded your services and nobody knew?  Isn't the point of a brand to, you know, get people focused on your products?  Kind of hard to do that when we don't even know what the brand is, and have to dig around to find out.
Looks like the folks at Bing are back at it again, testing new versions of the UI, while not saying much about them or how (or even when) the changes will roll out more broadly.
This latest look seems to feature more of a blocky, "Metro style" interface, …
Sometime in the past few weeks, Microsoft apparently changed the name of the Facebook app for Windows Live Messenger.  The app, used to connect Messenger and Facebook chat so you can chat with your Facebook friends from the Windows Live Messenger client (or from Hotmail), used to be …
Shortly after we posted on the release of the Xbox Companion app for Windows Phone (and had to be away from the keyboard for a time), Microsoft announced a, umm, companion app to Xbox Companion, this one running on iPhone and iPad. 
The iOS app doesn't do nearly …
CNet is reporting that they have received an invitation to a press event to be held in New York City on December 14, to be jointly held by Nokia and T-Mobile. The invitation teases "something exciting in the works" between the two companies. Check out the invitation below …
An Inside Windows Live blog post today announces that a new version of the Live Connect set of APIs for connecting applications to SkyDrive as well as contacts and calendar is now available, along with a new version of the Live SDK for Windows Phone, just in time …

After a few fits and starts, which probably wouldn't have even been noticeable if it weren't for a Major Nelson tweet promising a rollout schedule that Microsoft missed by only a few hours, the Xbox dashboard update should have reached your Xbox 360 console by now.  And …
We picked up a wild rumor today which seemed quite possible with the technologies Microsoft has today – the ability to easily transfer files directly across your phone, PC/tablet, and the TV using near-field technologies. Here's the tweet from @MS_Nerd:
[blackbirdpie url=https://twitter.com/#!/MS_nerd/status/144315798423474177]
The tweet claims that Microsoft …
This afternoon (pacific time), Microsoft took some of the wraps off the Windows 8 store, and although journalists and bloggers not at the event scrambled to get the news as it was happening (Thanks, @InaFried at AllThingsD, it may have been painful, but you were all …
Microsoft is rolling out the new Xbox 360 dashboard update (and btw shouldn't this update have some sort of a cool name, like Mango or Siri?) tomorrow, December 6th, and Larry Hyrb, or as he's better known, "Major Nelson", has just tweeted out the promised rollout schedule, which …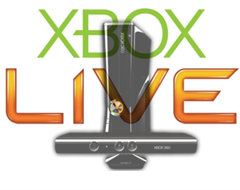 On Tuesday, Microsoft will begin to roll out the next version of the Xbox experience, featuring a new dashboard that combines your living room TV with the Xbox 360.  With voice and motion control powered by Kinect, and search powered by Bing, Microsoft hopes to begin a …
We all know that Microsoft added Twitter integration as part of the Windows Phone 7.5 "Mango" update. The integration allowed you to view Twitter feeds in your People hub, reply or retweet to them, post a new tweet, receive notifications of Twitter mentions in the Me tile, …
While marketing tactics like the Bing Holiday Calendar are all well and good, we're waiting for something a bit more substantial, and it looks like we might not have to wait long.
According to a tweet by RK Johnston, a Test Manager for Bing Shopping, and author of …
For the month of December Bing has created the Bing Magical Holiday Calendar, 31 days, 31 gifts!
Starting off with: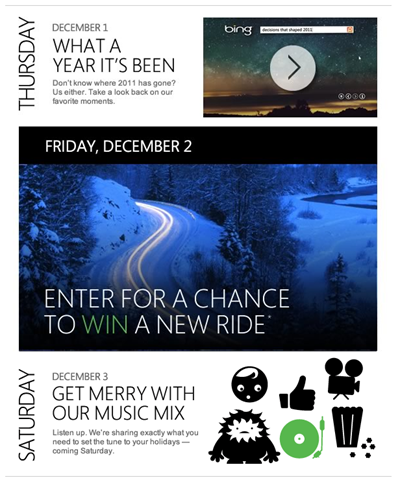 *NO PURCHASE NECESSARY. Open only to legal residents of the 50 US (+D.C.) 18+. For Sweepstakes Official Rules and Gift Terms and Conditions, see the Bing Magical …