2011
Neowin.net reported today that according to tips from a "key WP7 employee", the Windows Phone platform may be getting video chat capabilities much like Apple's FaceTime. According to Neowin, the application is expected to be bundled into Microsoft's Live services …
We first told you about Fuse Labs Project Emporia back in November and now Project Emporia is already available for Windows Phone 7 via the marketplace.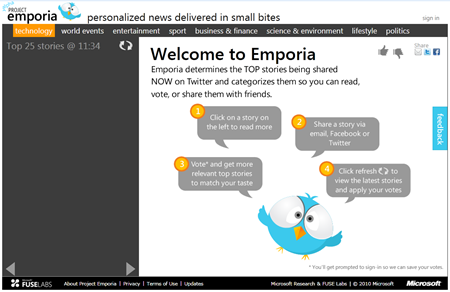 This sounds like a must-have app to me, well if you want to …
FanSnap – If you're searching for sports tickets in the US, things just got easier.  The Bing team just incorporated FanSnap's venue maps and comprehensive event catalogue into the Bing experience. This means that you can now compare tickets from …

Today on the Inside Windows Live blog, to their credit, the Windows Live team through Mike Schackwitz explained what happened in the Hotmail outage that occurred over the New Year's Day weekend.  Basically, after running some automated stress …
The early returns are filtering in, and our personal first impressions, along with others from around the web, were, shall we say, underwhelming.  Nick Eaton at the Seattle PI, for one, was left wanting:
What we don't know is
…
Microsoft's Steve Ballmer announced during his CES 2011 keynote a new experience called Avatar Kinect for the Xbox 360. Besides recognising body gestures using the Kinect technology, with Avatar Kinect your Xbox 360 can recognise facial expressions as well – …
Steve Ballmer's CES 2011 keynote had just ended, and gave us very little to no surprises (if not slightly disappointed). One thing Steve did promise during the keynote in relation to Windows Phone 7 updates is the following:
Microsoft will
…
Micorsoft just held a special press conference at 1pm PST, featuring Steven Sinofsky, President of the Windows and Windows Live division, giving us a preview of what's to come in this evening's keynote.
Perhaps the most interesting (and surprising) news …
The news is heating up from CES, and just posted over at Channel 9 is a special CES edition of Laura Foy's Hot Apps, taking a look at new Xbox Live Apps for Window Phone 7:
The hosted email wars keep heating up as today Google has won a temporary injunction against the Department of the Interior, who Google accused of improperly awarding a contract to Microsoft to provide email services for its 88,000 Bureau of …
Last month we told you details about the upcoming Windows Phone 7 updates codenamed "Mango", as well as details about the two smaller updates to be released during early 2011, one of which is supposedly to be announced …

Toyota today introduced Entune from CES in Las Vegas, its new built-in hardware / mobile phone application pair that brings Bing, Pandora, Open Table and more to your car's dashboard.
Basically, you'll be able to (after buying a new, Entune …
2011 could be a very significant year for Microsoft, the year Bing gives Google some serious competition, Windows Phone iterates and impresses to gain ground on the iPhone and Android, Microsoft finally makes a serious move into the connected TV …
Five years ago, on January 3rd, 2006, our good friend and current Microsoft Windows Live Evangelist Harrison Hoffman published the first of almost three thousand posts to date (this is post #2,892), welcoming you all to LiveSide.net. Now entering …
Just a quick update on the great missing email/folders caper over at Hotmail, a number of Facebook fans of the "Hotmail…wth" page are leaving comments that their emails and folders are back…except for emails from last 3 days.  We noticed …
On the first day of new year, Internet Explorer Product Marketing Director Roger Capriotti shares some exciting numbers about IE 9 and previous versions of IE. According to his post on the official blog, IE 9 Beta has been downloaded …
In the past few days, a number of Hotmail users have been complaining on WindowsLiveHelp.com about a rather disconcerting issue: their Hotmail accounts, some up to 10 years old, appear completely empty.  No emails, no folders, nothing, just what appears …
Page 32 of 32
« Previous
1
...
30
31
32