Windows Live SkyDrive was only recently updated back in November last year to Version 16.2 (Build 2955) with better sharing and file management functionalities (see the official change log here). Today we noticed that the SkyDrive team had released another minor update to SkyDrive, bumping the version number up to Build 3004. Thanks to a tip from an anonymous LiveSide reader, the update apparently brought another new feature to SkyDrive – geotags support. Check out the screenshot below showing this in action: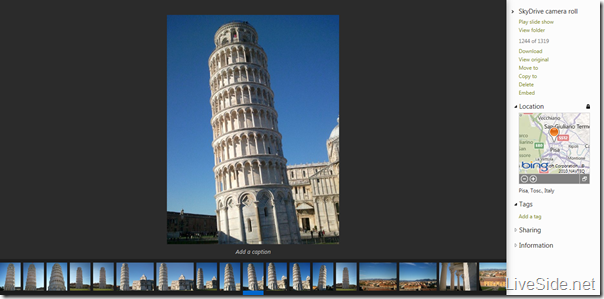 Notice the new "Location" section with a map on the right info pane. The image was automatically uploaded from my Windows Phone with geotagging turned on. As you can see, the GPS co-ordinates were automatically uploaded to SkyDrive along with the photo, and plotted onto Bing Maps to show you the exact location where this photo was taken. Pretty nice addition!
For those of you concerned with privacy about this feature, fear not. Notice that lock icon on the top-right corner of the map – this icon signifies that these location details are only visible to me only, and as such my friends will not be able to track my location unknowingly (although it's pretty obvious where that photo was taken!)
We understand that Microsoft is already working hard on version 16.3 (Wave 5 Milestone 3) of SkyDrive, and given the quite frequently release between the last two updates, we're hoping to see many new features coming to SkyDrive really soon. If you have noticed anything new to SkyDrive, please let us know in the comments below!