Early last November, Mike Torres and Omar Shahine, in a post on designing cloud storage services (read: SkyDrive), posted some telling statistics:
Today, less than 10% of college students consider using SkyDrive to access or share docs
Overwhelmingly, when students work on group projects, they start or finish in Microsoft Office on their PC or Mac
almost 75% of students use more than one tool to share and collaborate including email, file clouds like Dropbox, and app clouds like Google Docs
over 70% of Dropbox users also use Google Docs
In a nutshell, while SkyDrive offers a compelling set of features that can help students a better alternative, Microsoft's cloud based storage service simply isn't seen as an option.  We think it's great that at least Microsoft is open to admitting its failings, and setting out to change them.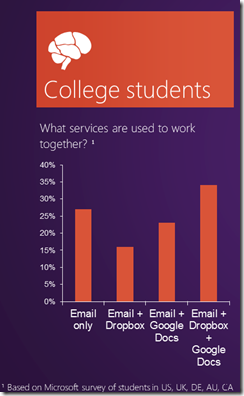 Today, in a blog post on Inside Windows Live, Anand Babu introduces a new contest for university students at 10 US colleges, and supplies 7 tips on how to get the most out of SkyDrive, in an effort to convince students to try, and to use, SkyDrive.  Microsoft isn't making any bones about going after students who currently use Google Docs, as you can see in this video animation, created for Microsoft by Planet Nutshell:
[youtube_video]D6O9J_EzmqE[/youtube_video]
What still isn't available with SkyDrive, however, is a drop dead simple way to get SkyDrive on your desktop and begin using it.  Anand offers tips on how to pin SkyDrive to your taskbar (hint: useless if you use Chrome or Firefox, very popular among college students), suggests using Silverlight to enable multiple file uploads, and (our favorite), notes that if you can't view Office Apps in your browser, that you need to install a browser plugin to view SkyDrive files by "install(ing) a free trial of Office 2010 or Office 2011" (Office 2010 Pro is something like a 2.5gb download, kind of a big browser plugin, we'd say!).
These inconsistencies, when compared to the all in one solution (admittedly not as full featured) offered by Dropbox, are what's holding SkyDrive back, in our opinion.  While we're hopeful that "nutshells", contests, and blog posts persuade students to try SkyDrive, we think it's still too hard to discover and too hard to use.  We're impressed by what SkyDrive has to offer, but we're not surprised that only 10% of college students have even considered it.  Can a marketing push make a difference, or does SkyDrive still need work before it's ready to be seriously considered against Google Docs and Dropbox?