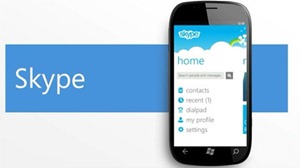 Microsoft first revealed the Skype for Windows Phone app back in MIX 2011 last year, way before Microsoft's acquisition of Skype. It had almost been a year without further news about the app, and finally during CES 2012 in January, a Microsoft representative mentioned during a video interview that the Skype for Windows Phone app will be "coming soon".
Well according to reports from WP7Lab (via WMPU), Microsoft had just begun dogfooding (internal beta testing) the Skype for Windows Phone app. Furthermore, the website received an anonymous tip indicating that Microsoft will soon be sending out invitations for a beta version of the app. Here's an excerpt from WP7Labs:
Skype for Windows Phone is just around the corner and we've teamed up with the Skype folks to help with beta testing. If you are receiving this newsletter directly, look for an invitation in the coming weeks and be on the inside track for what is sure to be one of the hottest new apps on the Marketplace!
It was reported back in January that Tony Bates, President of the Skype Division at Microsoft, confirmed that Skype will exist as a separate downloadable app from the marketplace for now, and full integration into the Windows Phone OS is expected to happen in Windows Phone "Apollo".
Skype is currently one of the major apps that exist on other mobile platforms but missing from the Windows Phone marketplace. The exact timing of the release is still unknown, but it is good to hear that Microsoft is making progress with the app. Who knows we might actually hear more about Skype on Windows Phone during Mobile World Congress in Barcelona this month! Stay tuned.