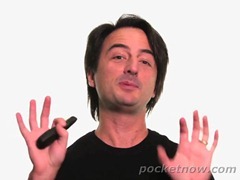 Pocketnow.com has revealed a number of new details about Windows Phone 8, code named Apollo, after apparently getting their hands on a video featuring Microsoft Senior Vice President Joe Belfiore, and intended for partners at Nokia.
While Pocketnow doesn't post the video (which would be sure to be taken down quickly if they tried) they do reveal quite a list of features and improvements coming to Windows Phone 8.  Here's a quick recap:
Support for multi-core processors
new screen resolutions (4 total, no more specifics)
removable microSD card storage (!!)
NFC radio support, including…
carrier branded and controlled "Wallet experience"
a "dedicated companion application" to replace the current Zune application for PC sync.
Microsoft is expecting 100,000 apps in the Marketplace at time of Windows Phone 8 launch
native code support for app developers
support for app-to-app communication
a revamped Skype client "that hooks directly into the OS"
a "lens app" for camera applications, allowing camera skinning or overlays with viewfinders
"DataSmart" – a feature to simplify tracking of data usage.
A proxy server to feed pages to IE10, using server-side compression, reducing data needs by 30%
native BitLocker encryption
In addition, the video purportedly confirms a common core between Windows 8 and Windows Phone 8:
Windows Phone 8 won't just share a UI with the next-generation desktop and tablet OS, apparently: it will use many of the same components as Windows 8, allowing developers to "reuse — by far — most of their code" when porting an app from desktop to phone, according to Belfiore. He specifically mentions the kernel, networking stacks, security, and multimedia support as areas of heavy overlap.