If you had been following LiveSide, you might've heard about the recent news about Windows Phone 8 from an allegedly leaked video featuring Joe Belfiore, Microsoft Senior Vice President for Windows Phone, speaking about the latest features on Windows Phone 8 to partners at Nokia. There is a huge list of new features and information from that video, and it was said that it's just the tip of the iceberg on what's coming. Being Windows Live-focused here at LiveSide, there's a few points in relation to sharing and syncing of data between devices that sparked our interest, and here we'd like to discuss how that might shape the future of SkyDrive and Windows Live Mesh.
Before we begin, we should clarify the terminologies "syncing" and "sharing" used in the context of this post:
Syncing refers to the use of a cloud service, such as SkyDrive or Xbox LIVE, to synchronise data between devices
Sharing refers to the direct transfer of data between two or more devices using wireless mediums such as NFC, Bluetooth, or WiFi
Syncing data between the 3-screens

The latest information about Windows Phone 8 seems to indicate that there will be greater support for syncing data across your PC, phone, and the Xbox. Below is an excerpt from Pocketnow:
SkyDrive support promises seamless sharing of data between devices; Belfiore gives the example of instantly having one's music collection available on a newly-purchased Windows Phone, without the need for a PC sync.
This is also confirmed by Paul Thurrott, who said the following:
A set of common cloud services that will work across [the phone (Windows Phone 8), PC (Windows 8), and TV (Xbox vNext)]. This includes the ability to sync content (photos, music, movies) between the three screens …. and Xbox LIVE games, entertainment, and more. Microsoft will make your content available on all of its platforms via SkyDrive.
Currently, Windows Phone 7.5 already supports the syncing of contacts, calendar, email, photos, and Office documents between the phone and Windows Live, which in turn can be accessed and synced to PCs (particularly with Windows 8). However, other file types, such as music, videos and movies, are not yet supported (we're not talking about Zune Pass here, since it doesn't allow you to sync your personal collection between your PC and phone). The information above seems to indicate that Microsoft will support the synchronisation of all your content (including music, movies, and perhaps even cloud game saves) between the the phone, PC, and Xbox via SkyDrive. Could this perhaps be what the original Live Mesh envisioned coming to fruition?
Sharing data between the 3-screens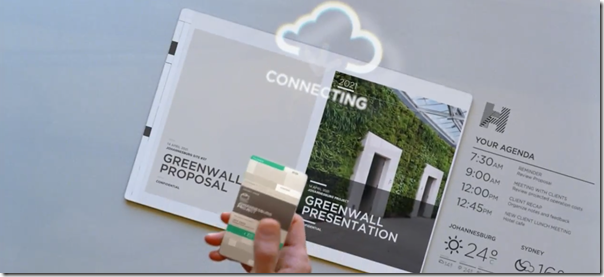 While syncing data between devices through the cloud seems to be the direction the tech industry is going, sometimes it is still easier to transfer data directly between two devices wirelessly. Imagine the situation: when you have two devices (say your Windows 8 tablet and Windows Phone) right next to each other, why should the data travel all the way through the cloud to get to the other device? It seems like Microsoft had also considered this, and based on what Pocketnow reported, a new "tap-to-share" wireless-sharing capability will be coming to Windows 8 and Windows Phone 8:
In addition, tap-to-share capabilities will reportedly work across multiple platforms, allowing desktops, laptops, tablets, and phones to all share content.
We've previously reported a wild rumour indicating that Microsoft will be bringing a feature called "beaming" to its future devices. According to the rumour, users will be able to transfer files directly across their phone, PC/tablet, and their Xbox/TV using technologies such as Bluetooth, NFC, and Wi-Fi Direct. The latest information about Windows Phone 8's "tap-to-share" feature seems to tie in nicely with this rumour.
If you take a look at the current Microsoft offerings out there, the ability to sync and share data between devices seems very cluttered and filled with limitations, and there really isn't a simple way to seamlessly sync and share data across devices. If the latest reports about Windows 8 and Windows Phone 8 holds true, then Microsoft really "re-imagined" the way we could sync and share data across devices. Let's hope this would become reality by the end of the year when both Windows 8 and Windows Phone 8 launches.