Microsoft continues to fill out its cross platform application offerings, adding OneNote Mobile for Android (2.3 or higher) to the list of iPhone, iPad, and Android apps already available from a number of Microsoft products, including Bing and Hotmail.
The app brings the note taking abilities of OneNote, along with the cloud storage features of SkyDrive, to allow you to take, edit, and or store notes on your Android device.  The OneNote blog has more, including an annotated screenshot: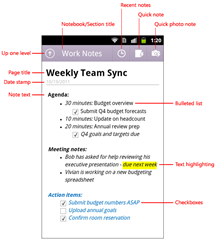 … and a feature summary:
OneNote Mobile for Android includes the following features:

Text formatting, images, and bulleted lists
To-do lists with clickable checkboxes
Quick photo capture with your phone's camera
Quick access to recent notes
Store and access multiple OneNote notebooks
Sync to your free SkyDrive account for access anywhere
Offline access to your notes
Option to sync notebooks only over a Wi-Fi connection
Built-in spelling checker
Support for external hyperlinks
Table editing
Along with the official announcement on the OneNote blog, the team at SkyDrive also posted on accessing SkyDrive through Android, either via this new OneNote app (for OneNote files), or via a number of 3rd party apps that utilize the SkyDrive APIs:
If you have an Android device, we also encourage you to try other apps from partners built using SkyDrive APIs. For example with Browser for SkyDrive or Cloud Explorer for SkyDrive, you can view, access and upload documents or photos on your Android phone. Portfolio for SkyDrive lets you organize and upload photos from your Android phone in batches to SkyDrive. If you want to add SkyDrive support to your app, site or device, please visit our developer center.