This morning Steven Sinofsky, President of the Windows and Windows Live Division at Microsoft, revealed in his blog post the first official screenshots from Windows 8 Consumer Preview, which gave us a glimpse of the new Office 15 suite and "Windows Communication" apps (essentially Metro-styled Windows Live apps). Furthermore, contents from the Windows Store is also revealed, showing what will be available in the Windows 8 Consumer Preview. Of particular note is the existence of the Zune brand within the store, see image below: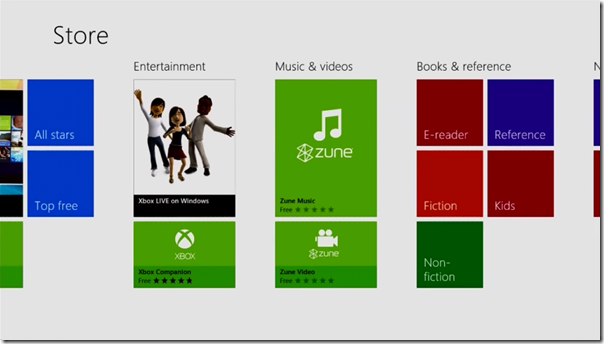 Reports around the internet seems to suggest that the Zune client isn't dead yet, given the existence of the "Zune Music" and "Zune Video" apps, as shown above. However, we tend to think that these two apps merely provide access to the Zune marketplace, much like their counterpart apps in the new Xbox 360 dashboard. As far as the Zune client is concerned, we think it is dead, and media playback will be handled by the Metro-styled "Music" and "Video" apps – potentially a replacement of Windows Media Player: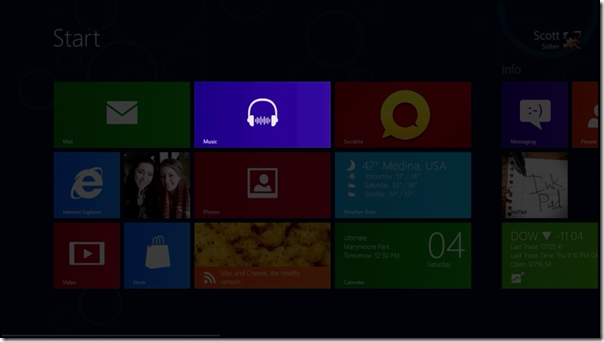 If this seems to be the case, it ties in nicely with previous reports about Windows Phone 8 having a separate sync client other than Zune, further suggesting that the Zune client is gone:
Windows Phone 8 will reportedly scrap integration with the desktop Zune client in favor of a syncing relationship with a dedicated companion application.
The Verge even suggests that the Zune branding might not stay for long, and will be removed by the time Windows 8 ships:
We are hearing that [the Zune] branding will be removed shortly before the Windows 8 release, moving to Xbox Live for Windows as the entertainment brand for Windows 8 Music, Video and Games.
What do you think the future holds for Zune? Will it still exist as a branding for music and video services? Or will it be merged into the Xbox LIVE branding? Let us know in the comments below.