We've all heard about what is coming for Windows Phone 8, codenamed "Apollo", and how it will be designed to target higher-end devices with multi-core processors, new screen resolutions (4 in total), NFC, and more. But what about "Tango", the relatively minor release that is said to come before "Apollo"? We'll provide a recap of what we already know, as well as some new insights we've just heard, about the update in this post.
Features
In summary, according to Mary Jo Foley, "Tango" is "all about Nokia" and "focused on hitting the lower-price point for Windows Phones that Microsoft and Nokia execs have been promising." According to MJF, two Tango updates are reportedly coming:
Tango1 aims to "further broaden the markets addressed by Windows Phone by adding additional language support". We've previously heard reports that "Tango" will bring support for 120+ languages, and this is consistent with what "Tango1" is all about. With Nokia continuing plans for world domination (now already in 31 markets worldwide), "Tango" continue this momentum and take Windows Phone to the untapped markets such as China.
Tango2 will be "targeted at low-cost devices and include fixes and new features, as well as services and language support for markets that still won't have been addressed after the Tango1 release."
In relation to Tango2, many are wondering exactly how will Microsoft bring Windows Phone to low-cost devices? Paul Thurrott gives us an insight on how this might be achieved, and how it impacts the Windows Phone ecosystem:
[Tango] is aimed at broadening the Windows Phone user base. It will do so by undercutting the requirements of the current Windows Phone platform to support lower-end devices that can be sold more cheaply in emerging markets. Microsoft is thought to be working closely with its special partner, Nokia, on this Windows Phone version.

The biggest change to Tango, which will likely be called Windows Phone 7.5.1 when released, is that it will lower the platform's memory requirements. It will do so by ushering in a new generation of low-end Windows Phone handsets that utilize just 256MB of RAM, down by half from the 512MB of RAM that's more common today.

But it's not just that these handsets will include less RAM, according to my sources. The underlying OS is also being optimized for the lower RAM allotment, with apps certified for this release being required to use less RAM and other resources, and certain resource-intensive background tasks being disabled.

Developers will be able to target Tango or Windows Phone 7.5 going forward, or both, and users of the new low-end systems will basically be able to access a subset of the existing Windows Phone Marketplace apps selection.
It is currently not known what percentage of apps in the current 60,000 apps-strong marketplace will be compatible with these lower-end devices, but Paul Thurrott heard that some high-end games such as "Plants vs. Zombies" will not work, while others like "Angry Birds" will be compatible.
Of course, we'd also expect some new features and services from "Tango", such as the rumored universal "Spotlight"-like searching capability or folders-support. However, don't expect too much for the "Tango" update, given that it is meant to be a minor update like "NoDo" and is really aimed at getting Windows Phone into additional markets. You'll probably have to wait until Windows Phone 8 for those big changes to come.
Timing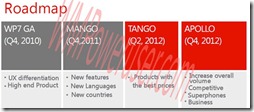 As far as timing is concerned, below is a rough timeline of when "Tango" is expected to be announced and released:
Late February 2012 – it is widely expected that Microsoft will announce Windows Phone "Tango" and give a few details about what's coming in the update during Mobile World Congress
April 2012 is when Microsoft is expected to make the new version of Windows Phone developer SDK available. According to Paul Thurrott, developers will be able to test apps on both 256MB "Tango" devices and mainstream 512MB+ devices in emulation. It is said that developers will be given the option to opt out of making their apps compatible with "Tango" if they like, although it might not be desirable if "Tango" proves to be a hit in the markets
Q2 2012 is what we last heard in relation to the timing of release for "Tango", according to a leaked roadmap for Windows Phone (shown above)
With two weeks to go until Mobile World Congress, we can't wait to hear more about what Microsoft has up its sleeves in the mobile space.