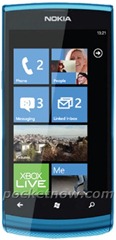 After we reported a rumor yesterday about a potential Nokia Windows Phone to be launched at Mobile World Congress (MWC), another rumor surfaces today about more devices that Nokia is set to unveil at MWC. Pocketnow.com first got words that Nokia is set to unveil six devices at MWC – three Nokia Asha-series S40 phones, one Symbian device, as well as two Windows Phones. Specifically, Pocketnow reports that the Nokia Lumia 610 will be unveiled during the event, together with a global version of the Lumia 900:
The six devices are supposedly split evenly among smartphones – two Windows Phones and a Symbian – and three S40 feature phones. Specifically, we're now expecting the global version of the Lumia 900, an entry-level handset dubbed the Lumia 610, and the Nokia 808 PureView, which has been rumored as a full touchscreen successor to the camera-centric N8. Also tipped were the Asha 302, Asha 203, and Asha 202.
Now another source has confirmed the Nokia Lumia 610 device. TechRadar also got words from sources indicating that the Nokia Lumia 610 will debut at MWC:
Nokia's forthcoming Lumia 610 is set to tread new ground for the Windows Phone platform and enter the market as a pay as you go only offering … sources close to the matter have confirmed to TechRadar that the budget model will be priced very aggressively in UK shops.

With the Nokia Lumia 710 already only costing £199.99 on PAYG with O2, and further price drops anticipated in the near future, it's not a great leap to think that the Lumia 610 will be cheaper still if we follow Nokia's numbering strategy.

Definite pricing for the Nokia Lumia 610 has yet to be confirmed for the new phone as yet, but the idea of a Windows Phone handset for under £100 should surely start getting the budget Android manufacturers a little hot under the collar.
TechRadar also said that the Lumia 610 will also run on Windows Phone "Tango", which is expected to be announced by Microsoft at MWC, and explains the low pricing for the Lumia 610. Forbes reported previously that the device Nokia is set to announce at MWC has "an unusual software feature normally found only on high-end smartphones", possibly hinting at an upcoming feature in "Tango".
Whatever the device is going to be numbered, all sources seems to indicate that Nokia will be targeting the lower price ranged smartphone market to make Windows Phones more affordable to the masses – which is consistent with Microsoft's strategy with Windows Phone "Tango". With less than two weeks to go, we can't wait to see what is coming at Mobile World Congress 2012.