A Brazilian website, Gemind.com.br (English translation) has posted a set of SkyDrive screenshots which appear to show some new features: A SkyDrive client for Windows or Mac, and some paid storage options.
LiveSide readers will remember that we told you about a set of upcoming SkyDrive clients last August, including Mac and Windows, clients for Windows Phone and iOS, which have already been released, and a still to come Android app.  We also told you about the paid storage options last September, so this isn't the first we've heard of these new features, but still it's interesting to see these screenshots make it on the web.
The Brazilian site posts one screenshot showing a banner promoting SkyDrive applications for PC or Mac (where in the current version you see a promotion for Windows Phone and iOS apps:

)
Users have been calling for desktop clients for SkyDrive since it was first introduced, similar to what is offered by competitor Dropbox.  Looks like we may finally get what we've been asking for: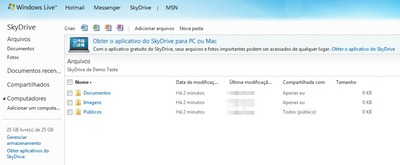 Next up is "Managed Storage", or a way to pay for additional storage on SkyDrive.  The prices, if they hold up, seem quite competitive, as Dropbox pricing is more than double what these screenshots show SkyDrive pricing to be (of course SkyDrive offers 25gb of free storage, too, while Dropbox only offers 2gb).  Here's the English version of the "Managed Storage" page, as captured by Gemind.com.br.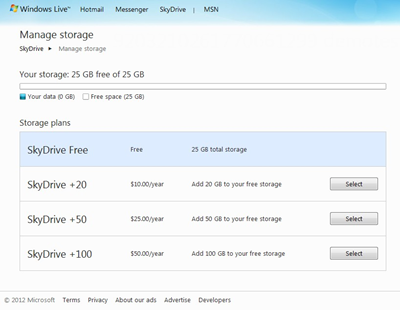 While we still don't have a client in hand, it's good to see that SkyDrive is continuing to improve its services, especially in light of more evidence of an upcoming G Drive from Google, and the continued popularity of Dropbox.