Ever since Nokia and Microsoft's partnership, Nokia had been developing exclusive value-adding apps and services to their Windows Phones. Back when the first Nokia Windows Phone devices launched in Nokia World 2011 last year, the company also announced four new apps – Nokia Drive, Nokia Maps, Nokia Music and Nokia Pulse. At CES 2012 in January this year, Nokia also showed off Nokia City Lens. Today at Mobile World Congress 2012, Nokia again revealed several new apps – Nokia Reading and Nokia Transport, as well as updates to Nokia Maps and Nokia Drive.
Nokia Transport
[youtube_video]B2NLVF4e5cY[/youtube_video]
Nokia Transport will complement Nokia Maps and Nokia Drive, and allows you to plan fast inner-city routes from point to point, and work out your time of arrival. Here's what the app can do:
Choose from multiple routes and follow the list of directions for buses, trams, underground or trains.
Smart navigation for walking helps you reach your destination door-to-door.
Check the next departure times for any stop in your city and easily save your regular commutes to favourites.
The app will provide public transport information for public transport information for more than 500 cities in 46 countries. Nokia Transport will made available to all Nokia Lumia devices in the coming days.
Nokia Reading
Courtesy of The Verge for the above video, Nokia Reading is a new e-book and audiobook app for Windows Phone devices. Nokia has partnered with Penguin & Hachette and Pearson to provide the service to all Nokia Lumia users. According to the Nokia Conversations blog:
Using Nokia Reading you can choose your own favourite authors, or select from bestselling novels and an extensive selection of top local books in your own language. The service integrates beautifully with the Lumia in the same "hub" and panorama experience we've seen working so fluidly with other services.

Once you have chosen a book, large, clear, smartphone screens like those on the Nokia Lumia make reading an enjoyable experience. It's great for reading on an underground train or plane, as you can read everything offline after downloading beforehand.

You'll also be able to create a personalised magazine page called "my stream" that automatically updates content across the most popular categories, and adds web content from your chosen sites.
Nokia Reading will be made available to users in the UK, France, Germany, Italy, Spain and Russia by April 2012.
Nokia Drive 2.0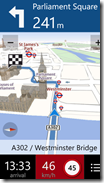 The new and improved Nokia Drive 2.0 is set to finally bring full offline support to the app, meaning that users will longer need to have an internet connection in order to navigate using the app. Search and routing, as well as re-routing, will all be done offline.
In addition, the new Nokia Drive 2.0 will feature a newly designed dashboard showing speed limit alerts, as well as the speed you're travelling at, estimated time for arrival, time to destination and distance to destination. A list of recently saved destinations will also now be accessible via a single tap, rather than having to search for a destination all the time.
Nokia Drive 2.0 will be made available to users in the coming weeks.
Nokia Drive 3.0
The Verge also gotten their hands-on with Nokia Drive 3.0, said to be able to learn commuters routes to offer them the best possible way to travel around cities. In addition, the new version will also provide live driving instructions that automatically update based on traffic incidents.
The release date for Nokia Drive 3.0 has not yet been announced.
Nokia Maps (Update)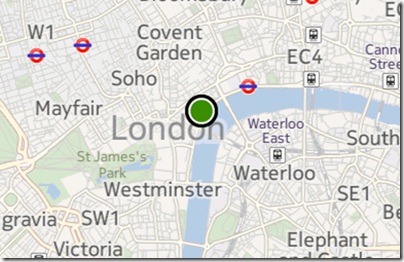 The new Nokia Maps will have a cleaner colour palette, as well as fewer intrusive objects and signs on the maps. The mapping details will also vary depending on the context, with pedestrians and drivers seeing different maps to reflect their different experiences. Users can now also create favourite places, and access places they've recently visited. Routes can also now be shared with friends and families using SMS, email or social networks.
The updated Nokia Maps will be made available to users in the coming weeks.
Nokia Maps and Bing Maps
Perhaps the most interesting news is that Nokia has offered us a first look at the closer collaboration between Nokia Maps and Bing Maps, where Stephen Elop mentioned that the new Nokia Maps will power Bings Maps sometime in the future – not only on the web but also on Windows Phone. Check out a screenshot below: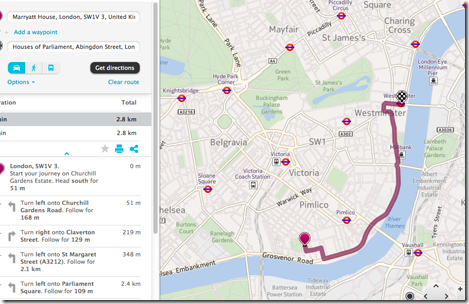 Nokia is certainly doing a lot of work to differentiate itself from the other Windows Phone OEMs, both in terms of hardware and software. We also expect another app – called Nokia Tracks – to be coming soon, with a demo of the app with a Metro-like interface shown on a Symbian device at Nokia World 2011. Let's hope more good quality apps like these come out soon.