Earlier today (February 29th), Steven Sinofsky, Julie Larson-Greene and others took the stage at the Windows 8 Consumer Preview launch event in Barcelona, in conjunction with the Mobile World Congress.  The event wasn't webcast live, and although the download went live as the event was taking place, we weren't able to watch the keynote.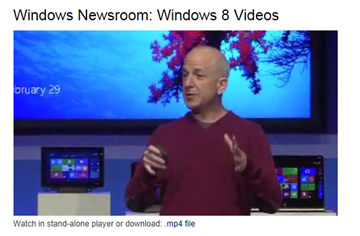 However if you are interested, the keynote, along with a set of outtakes, have been posted on the Windows page on the Microsoft News Center.  Unfortunately, these videos aren't embeddable, but you can watch them from the Windows 8 videos page.
Linked at the site are a trio of YouTube videos, which although they don't feature the actual keynote, do give a nice overview of what to expect with Windows 8.  Here's one called "Meet Windows 8":
[youtube_video]aebfjzdLxJA[/youtube_video]
The other two are a Product Demo, and details about the First Apps Contest.
As soon as we have a spare 90 minutes, we'll be poring over the keynote, and you can too.