March, 2012
German blog NokiaPort.de recently noticed that the US Patent and Trademark Office (USPTO) had granted a design patent filed by Nokia Corporation on March 13, 2012 (D655,698). The filing includes a new smartphone design from the Finnish company, a phone that have yet made it to the market. …

We kind of saw this coming, but reports have been floating around that the MySpace connected service will soon be removed from Windows Live Profile. This means that users will no longer be able to update their status on MySpace via Windows Live, their MySpace contacts will no …

Yesterday, PC World posted on what's looking like a cozy relationship between Microsoft and OpenStreetMap, an open source mapping project that has been in the news lately as a number of companies, including FourSquare and Apple, are switching away from Google Maps (and more specifically, from Google's …
We just tried to log in to Xfinity on Xbox, and like a number of other users, we're having some problems, which seem to be related to an inability to authenticate to the service with our Comcast Xfinity username/password combination: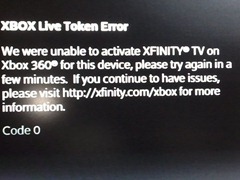 We're expecting that the problem is just with …
A blog post this morning on the Bing Search blog, perhaps a bit prematurely as the post has disappeared, announced a number of improvements to Bing Video, including larger and more informative previews in the search results page, infinite scroll for videos, related content, a larger video …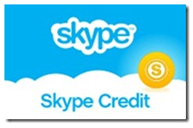 We've been waiting for Skype, acquired by Microsoft last year, to begin to make itself known within Microsoft products, and although today's announced "Bing and Skype – Better Together" promotion isn't earth shattering news, it's a start.
According to the post on the Bing Search blog, …
It is being reported that Microsoft has recently updated Bing in Germany which sees features from other markets being brought to the Germany site. The homepage now offers hotspots to allow for exploration and discovery and makes the homepage more engaging.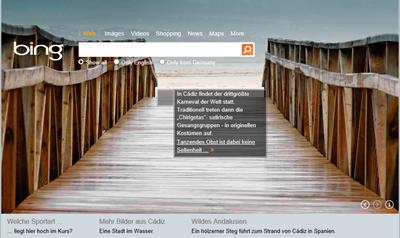 In addition to the hotspots being …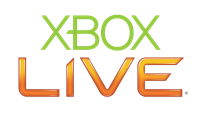 Reports are filtering out that not only the Comcast Xfinity content for Xbox Live, but also HBO Go, and Major League Baseball, according to numerous reports on tech blogs, including USA Today's "Game Hunters" blog.  According to the USA Today report, all three of the apps …

Nokia and AT&T officially announced the widely expected launch of the Nokia 900 today, at an eye-popping $99 (with a new 2 year contract), and getting a bit of buzz from the tech press in the process.  The new phone, available in either black or cyan (or in …
Last October, Microsoft announced plans to "transform TV" by partnering with a number of entertainment providers, including Comcast's Xfinity, but with only a few of the services available at launch.  Now, it looks like US customers of Comcast may soon be getting access to Xfinity on Demand, by …
Tips has been coming into our inbox that Bing is currently testing a new and slightly improved Metro-styled Bing homepage recently. The new design adds more information to the "taskbar" at the bottom of the Bing homepage image, which looks similar to the one Bing had been testing …
Last night, noted and self proclaimed Microsoft "leaker" MSNerd (@MSNerd on Twitter) set up a Reddit AMAA (Ask Me About Anything) that is getting a bit of attention this morning, with some "revelations" about Xbox, Windows Phone, and Windows 8 (and 9).  We've seen some information coming through …
Yesterday Microsoft released an update to Windows Live Essentials, notable in that we haven't seen a significant update to the software suite in over a year.  Although the update was announced on the Windows Experience blog (and remember: Windows Live Essentials is now part of the Windows Org, …
Microsoft has released an update for Windows Live Essentials:
Today, we released an update for Windows Live Essentials 2011 in all 48 languages. This minor release includes numerous updates across all of the programs in the Essential package, including Windows Live Messenger, Mail, Photo Gallery, Movie Maker, Family
…
Earlier today, WPCentral reported on what they thought was a Facebook direct message exchange between one Aamer Khan and Windows Phone VP Joe Belfiore, noting that "problems" with the 900 was delaying the launch until sometime in April.  We were skeptical that Belfiore would make such an admission, …

Office 15 had been a hot topic recently in the press, with a series of screenshots leaked from the Office 15 technical preview. As part of the Office productivity suite, there is also a cloud-counterpart called Office Web Apps, which is expected to be updated along with Office …

We've seen the device name Nokia Lumia 719 popped up several times before, both on the Bluetooth Special Interest Group (SIG) website as well as the Chinese SRRC radio management agency. Details had been vague about the device, and there had been rumors that it is simply …
This morning Paul Thurrott posted an extensive Office 15 "Preview", after he was able to "get his hands on a copy" of the Office 15 Technical Preview, which was released a few weeks ago to a select group of Microsoft customers under NDA.
Thurrott posts a number of …
In a continuation of the metrofication of Microsoft and the unification of Bing Maps and Nokia Maps, a blog post on the Bing Search blog announced today some new changes to the way that pushpins, popups, and transit info appear on Bing Maps.
As you can see, …
Microsoft China has recently sent out invitations to media outlets for their Windows Phone 7.5 launch event. This will mark the official entrance of Microsoft's Windows Phone operating system into the mainland Chinese market. The event is set to be held in Beijing on March 21st, check out …