In a continuation of the metrofication of Microsoft and the unification of Bing Maps and Nokia Maps, a blog post on the Bing Search blog announced today some new changes to the way that pushpins, popups, and transit info appear on Bing Maps.
As you can see, the pushpins are now Metro styled, with a flat blue look for search results (saved pins show up as orange)  instead of the shaded pins of the past: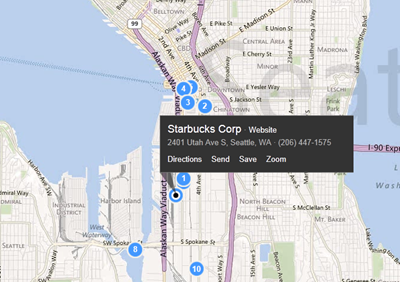 The popups that appear when you click on the pins have moved to the black info pane familiar to Windows 8 users, with a smaller name only popup appearing on mouseover.
To make things easier to see in an aerial map, the popups change to a white background in that view: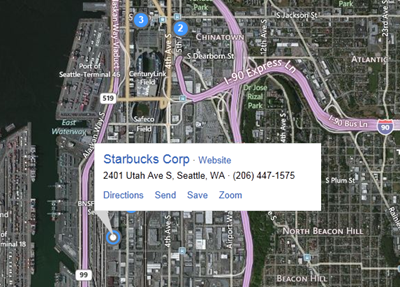 (We also noted that major roads are now colored in aerial view, something we hadn't noticed before, is that new?)
Public transport information in the US and UK have also been improved.  Colors and signage on transit lines now more accurately reflect their actual counterparts, and show up not only on the maps but on the enhanced directions lists, which have also been revamped to a more Metro look and feel: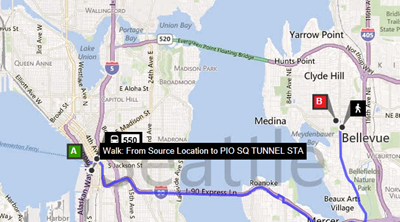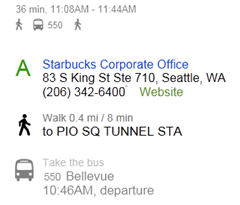 You'll be able modify and recalculate your route by clicking and dragging on start, end, or waypoints, noted by a tooltip that will appear with adjustable elements.
The blog post also notes the consolidation of Bing's interior maps, which started with shopping mall maps, into a new category of "Venue Maps"  Bing now offers interior maps of over 870 shopping malls, airports, casinos, and the like, in the US, Germany, France, and the UK.  It looks like there's lots more work to do as only one University (the University of Washington, go figure), one park, one museum, etc., are represented, but we expect to see lots more interior maps added over time.  You can check out the venue maps directly at www.bing.com/maps/venues, or use the navigation on the left hand side of the Bing Maps main page.  (We're currently getting a "the venue map you're trying to view is currently unavailable" error when trying to open the venue maps, you may have to wait a bit for these changes to roll out).