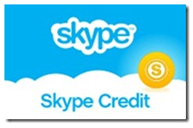 We've been waiting for Skype, acquired by Microsoft last year, to begin to make itself known within Microsoft products, and although today's announced "Bing and Skype – Better Together" promotion isn't earth shattering news, it's a start.
According to the post on the Bing Search blog, the Bing Toolbar is now being offered to new Skype users at installation, and it "may also be offered" to existing Skype users.  In addition, Skype Credits are set to be offered through the Bing Rewards redemption center:
For only 100 Bing Rewards credits, members can receive Skype Credit for up to 60 minutes of calling on Skype. While Skype users can always make free one-on-one video calls, and send instant messages, with Skype Credit they can:
You don't really need to use the Bing Toolbar to make use of Bing Rewards, your Rewards will show up on the Bing home page and on search result pages once you sign up for Bing Rewards.  There's a bit of small type on the Skype credits offer, which looks like it's already live here.