It is being reported that Microsoft has recently updated Bing in Germany which sees features from other markets being brought to the Germany site. The homepage now offers hotspots to allow for exploration and discovery and makes the homepage more engaging.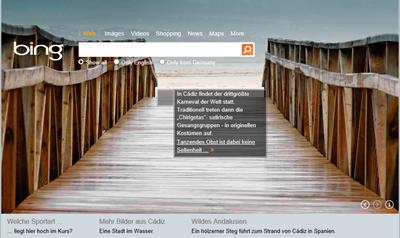 In addition to the hotspots being available in a web browser they also work in Windows Phone's in built Bing functionality.
Another minor cosmetic change to the German version of Bing is that there is now a Bing Tour video for German speakers.  The video informs users how to use Bing on a PC and a mobile phone showing how users can search for images, check the news, get directions and more. Watch the tour.
But the changes for Bing in Germany aren't just cosmetic, the way in which the site returns results has also been updated. The update introduces more context awareness so more meaningful and useful results are returned when using the search engine.
The final addition to the Bing experience in Germany is perhaps the most significant and is that Local Scout Bing Local Search is now fully working on Windows Phones in Germany. This feature is not available across a lot of the world but is a much anticipated so Windows Phone users in Germany should be happy. This feature allow local results to be returned when using the in built Bing feature in Windows Phone.
Have users in Germany spotted any new features with Bing? It's good to see more Bing features roll out around the world, even if it is at a very slow pace. Check out the updated Bing for Germany.
Thanks to MSicc for the images.
Update: It's Bing Local Search that recently launched in Germany, not Local Scout. Apologies for the confusion!