We kind of saw this coming, but reports have been floating around that the MySpace connected service will soon be removed from Windows Live Profile. This means that users will no longer be able to update their status on MySpace via Windows Live, their MySpace contacts will no longer be pulled into Windows Live Messenger and Hotmail Contacts, and status updates from MySpace friends will no longer appear on their Messenger Social feed (on Windows Live or Windows Phone). Below is a screenshot of the email sent from the Windows Live team to users who has had MySpace connected to their Windows Live account (courtesy of Neowin.net)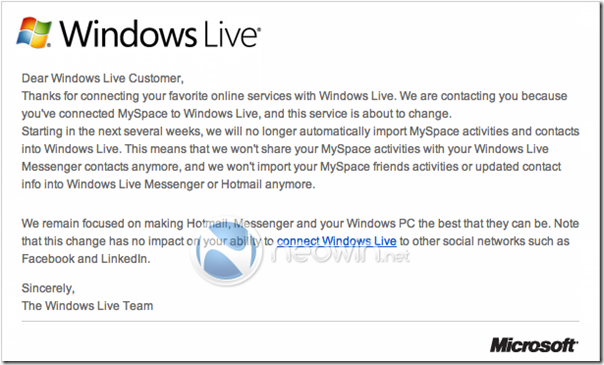 Indeed, any attempts to connect MySpace via Windows Live Profile will result with an error message indicating that the service can't be connected. MySpace's usual "Featured" service position has also been replaced by Google's Blogger service for U.S. users.
While it's sad to see MySpace go, we believe it's the right move from Microsoft to keep the connected services up-to-date with the latest trend on the Internet, particularly given that both Windows Phone and the upcoming Windows 8 focus heavily on these connected services. We understand that Microsoft is currently working with new partners to bring addidtional connected services to Windows Live, and we've seen the company adding Google to the connect services portfolio. Microsoft also has plans to expand the capabilities of the Twitter connected service as well as Chinese micro-blogging service Sina Weibo, which can be seen in the exclusive screenshots below:


What other connected service would you like to see improved on Windows Live? Let us know in the comments below!