Nokia got a lot of good press in the past couple of days as it moved quickly to get on top of an issue with data connectivity on the newly released Lumia 900, but Wall Street wasn't reading the tech press, apparently.  Nokia took a dive in the stock market yesterday, and is trending downward again today: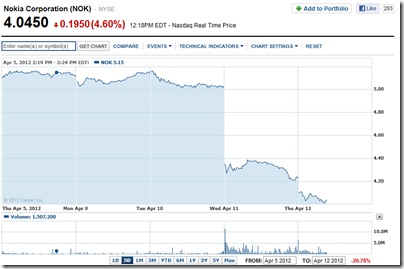 (You can quickly check on the latest stock prices of Nokia, MSFT, YHOO, GOOG, and AAPL in the widget in our sidebar)
Nokia and AT&T released the Lumia 900 in the US on Easter Sunday, April 8th, but pre-orders began arriving on Friday the 6th, and complaints about a loss of data connectivity began filtering in almost immediately.  A couple of workarounds were posted, and by Tuesday, Nokia had taken action, unusual for a mobile phone industry more used to "you're holding it wrong" excuses and late arriving software patches.
A post on the Nokia Conversations blog sums up the problems and Nokia's swift and over-achieving solution, offering not only affected users (reports are that only a select few of the Nokia devices were affected), but anyone who buys a Lumia 900 a $100 AT&T credit, making them essentially free:
However, soon after this flagship device began selling, we identified a software issue. In short, a memory management issue was discovered that could, in some cases, lead to loss of data connectivity. This issue is purely in the phone software, and is not related to either phone hardware or the network itself. As a proactive and prudent measure, we decided to take immediate action. We have identified the issue, and have developed a solution.

If you have already purchased a Lumia 900, we are making two options available to you:

• You will be able to update your device with the latest software via Zune on or around Monday, April 16th.

or

• Swap your current Lumia 900 for an updated Lumia 900

We apologize for any inconvenience this may have caused. As a gesture of good will, every individual who has already purchased a Nokia Lumia 900 — or who will purchase one between now and April 21st – will receive a $100 credit to their AT&T bill from Nokia.
Wall Street hasn't been as impressed as some tech reports, however, and the stock, already far lower than before last year's move to use the Windows Phone operating system was announced, took a deep drop right after the $100 credit was announced.
While the move still may make sense in the long run for Nokia, who is trying to break back in to the US market, and needs to make a splash while developing a loyal customer base, the short term effects on the stock price may well have them rethinking such bold moves in the future.  What do you think, did Nokia do the right thing?  Did they go too far?  What would you have done?