This morning, even a bit earlier than we expected, Omar Shahine and Mike Torres posted on the Building Windows 8 blog on the new updates to SkyDrive that "make personal cloud storage for Windows available anywhere"
Here's what's available now, on the SkyDrive apps download page, according to the post:
SkyDrive for the Windows desktop (preview available now). View and manage your personal SkyDrive directly from Windows Explorer on Windows 8, Windows 7, and Windows Vista with this new preview app available in 106 languages worldwide.
Fetching files through SkyDrive.com. Easily access, browse, and stream files from a remote PC running the preview app to just about anywhere by simply fetching them via SkyDrive.com.
SkyDrive storage updates. A new, more flexible approach to personal cloud storage that allows power users to get additional paid storage as their needs grow.
SkyDrive for other devices. We've updated the SkyDrive apps on Windows Phone and iOS devices, bringing better management features and sharing options to those devices. We're also releasing a new preview client for Mac OS X Lion, letting you manage your SkyDrive right from the Finder.
Apps are available for Windows, Mac, Windows Phone, and iPhone, and additional apps are also available, including apps for Android.
Immediately upon opening SkyDrive in the browser (once you are signed in), you'll see a notice about something we hinted at the other day: future users are only going to be allowed 7 gb of free storage, instead of the 25 gb offered now.  This is still bigger than Dropbox's 2gb, or even the long rumored Google G Drive, which is said to be offering 5 gb


However, as early adopters, we're getting a sweet deal: just click on the link in that message, which brings you to the managed storage page: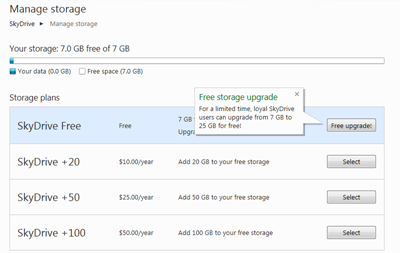 …click on the Free upgrade button, and you'll keep your 25gb as free storage.  From here, too, you can manage paid storage options, adding 100 gb of storage for $50/year.
Omar and Mike explain that 7 gb should be plenty for most users:
7GB free for all new SkyDrive users. We chose 7GB as it provides enough space for over 99% of people to store their entire Office document library and share photos for several years, along with room for growth. To put things in perspective, 99.94% of SkyDrive customers today use 7GB or less – and 7GB is enough for over 20,000 Office documents or 7,000 photos. Since the current base of customers using SkyDrive tilts towards enthusiasts, we are confident that, as we expand the range of people using SkyDrive, this 7GB free limit will prove to be more than enough for even more people.

Ability to upload large files – up to 2GB – and folders using SkyDrive for the Windows desktop or SkyDrive for OS X Lion.
Paid storage plans (+20GB, +50GB, +100GB) so that power users who need more storage can easily add more at competitive prices (US$10/year, US$25/year, US$50/year). Please note that paid-for storage requires the ability to pay by credit card (or via PayPal, in some markets) and a Windows Live ID that can be associated with that credit card or PayPal account.
Once you download the SkyDrive app: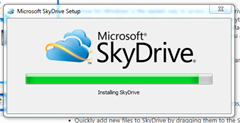 it's all pretty simple.  You have a SkyDrive app on your machine (it defaults to C:<User>/Skydrive, and then any files or folders kept in that folder will be synced to the cloud, and to any other devices that are logged in to your SkyDrive account and have an app enabled.
Remember that this is quite a change from the way Live Mesh works: there, you chose folders and "live meshed" them; here, you only have one SkyDrive folder and you must place anything you want synced within the SkyDrive folder.  Omar and Mike explain:
In Windows Live Mesh, which some of you have come to rely on, we allowed arbitrary folders to be synchronized. Our experience has been that this introduced too many unresolvable complexities across different PCs, with the path on one PC synchronizing to entirely different paths on other PCs and the cloud. In order to maintain our goal of "it just works," we designed SkyDrive to be the same everywhere, and to work well with libraries in Windows.

If you'd like your SkyDrive folders to feel less like separate folders, you can add your SkyDrive Documents and Pictures folders to your Documents and Pictures Libraries in Windows 8 and Windows 7.

Alternatively, you could change the target location for special folders like Documents or Pictures (or others) to folders in your SkyDrive, basically treating your SkyDrive as your primary drive (right-click the Documents folder, click Properties, and then Location). You can also customize the default root of the synchronized folder (to use a different drive, for example), and this option is available during setup of the SkyDrive app.

So, as you can see, the simple and straightforward model of having a single folder for your SkyDrive still leaves lots of creative options for personalizations.
We're going to have to think about how to set up a SkyDrive folder here, but this is really a momentous day, on that's been a long time coming.  We finally have a working SkyDrive client for the PC, woohoo!