After receiving a tip today on (another) new look for Bing (thanks Hector!), we tried it out and sure enough, we're getting a new search results page,  a new header, and a new look for Bing Search blogs, etc.:

As you can see, the header features a very thin slice of the home page image (much, much thinner than previous attempts), a simple, shades of gray navigation bar, related searches and ads on the right, and lots and lots of white space.
The navigation bar changes contextually with the search query, offering "Flights" on a query, for example, of "New York to Los Angeles", and "Movies" and "Shopping" on a query for "Harry Potter".
As of this writing, the home page itself hasn't changed, and we're still not getting the boxed images along the bottom, and in fact, although we were getting them here in Firefox, or on Windows 8  just a few days ago (but not in Windows 7/IE9), they seem to have disappeared from everywhere, at least here: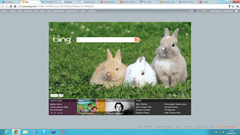 Bing Home Page tiled interface, now gone?
According to The Verge, this new look should be available to all US users (or to anyone else by changing their preferences).  While we haven't seen any official announcement, it looks like this Bing update isn't just another in a long line of tests, although it's getting to be quite a trick to tell what's live and what's just in beta.
Are you seeing the new Bing search results pages?  What do you think?