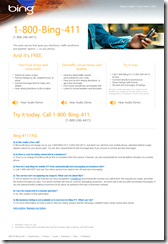 For those in the United States, Microsoft operates a toll-free number called Bing 411 (1-800-BING-411 or 1-800-CALL-411), which allows users to conduct voice search using Tellme technologies. The service allow users to conduct local business search, get driving directions, traffic reports, sports scores, stock quotes, weather reports, and even get information on the cheapest place near you to buy gas. Below is a description of the service from the Bing Search Blog:
Bing 411 now takes local business search a step further, helping you to complete tasks from your phone. Call Bing 411 to find a business, then connect to it or get an SMS with a link to a map (which you can also send to a friend). Bing 411 even includes star ratings of businesses based on reviews by other consumers. You can get traffic-influenced driving directions, and for movie theaters, you can get show times and even buy tickets.
Unfortunately, we recently received a tip that Microsoft is set to discontinue the Bing 411 service. If you call the Bing 411 number now, you'll be greeted with a message saying that the service will be discontinued from June 1, 2012, exactly 3 years since it's launch back in 2009 (before which was Live Search 411). As a comparison, Google discontinued their GOOG-411 service back in October 2010.
You can find more information about the Bing 411 service at http://www.discoverbing.com/mobile/411